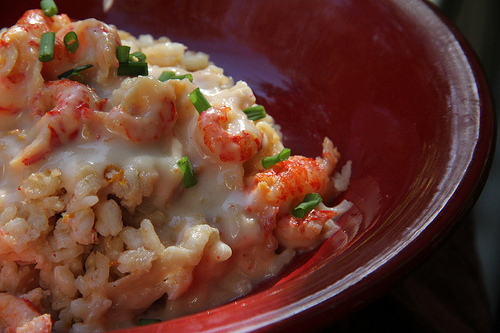 After staring at the luxurious ingredients that Marx Foods sent to me for our first Thanksgiving Virtual Potluck, I first felt like I was on the show "Chopped". Unlike the chef contestants on the TV show, I had an out. I was not forced to use "everything in my basket", and I am allowed to share my bounty with my readers in a giveaway.
But, a people pleaser by nature, I was still at angst over what to pair with the highlighted ingredient, the Italian Vialone Nano risotto.
I decided to use the dried matsutake mushrooms within the risotto, as it would give the dish an earthy flavor I was looking for. Matsutake's are prized by the Japanese for their distinct spicy-aromatic odor.
I also chose to incorporate the dried aji amarillo chile, a bright-orange, thick-fleshed Peruvian chile with a medium to hot heat level. I wanted the chile  to be a delicious component to the crawfish cream sauce I prepared to top the risotto.
I was surprised by the subtle pine and sweet anise tones the mushrooms took on, which drove the dish in a direction I had not planned for. My husband loved the aroma, but I was not as convinced, as I'm not a big fan of licorice. After consideration, I think the black trumpets would have worked better if creating again. They have the buttery flavor that was originally intended. I'm thankful for purveyors such as Marks for bringing global ingredients to our home kitchens, so that we have the opportunity to experiment with quality products from around the world. How else would we know what we like, and don't like. It expands our knowledge of not only food, but culture.
I was going to include my recipe in this post, but since I was not in love with it, and felt it still needed tweaking, I am sharing instead my "Delicious Black Trumpet Risotto" for you to enjoy. I'm using dried black trumpets instead of the portobello's that usually accompany this dish.
The black trumpets can be substituted with an array of interesting exotic varieties that Marx Foods supplies. When using dried, make sure you reconstitute with boiling water, just to cover. This will rehydrate the mushroom or other dried ingredient to their original form. Save the mushroom broth to use in the risotto. If you are a foodie, the Marx Foods website will leave you feeling like a kid in a candy store.
Delicious Black Trumpet Mushroom Risotto
Ingredients:
6 cups chicken broth, divided
3 tablespoons olive oil, divided
1 pound dried black trumpet mushrooms, or other favorite mushroom, thinly sliced
1 pound white mushrooms, thinly sliced
2 shallots, diced
1 1/2 cups Arborio rice, or Italian Vialone Nano
1/2 cup dry white wine
sea salt to taste
freshly ground black pepper to taste
3 tablespoons finely chopped chives
4 tablespoons butter
1/3 cup freshly grated Parmesan cheese
Preparation:
In a saucepan, warm the broth over low heat.
Warm 2 tablespoons olive oil in a large saucepan over medium-high heat. Stir in the mushrooms, and cook until soft, about 3 minutes. Don't overcrowd them or stir too often. Remove mushrooms and their liquid, and set aside.
Add 1 tablespoon olive oil to skillet, and stir in the shallots. Cook 1 minute. Add rice, stirring to coat with oil, about 2 minutes. When the rice has taken on a pale, golden color, pour in wine, stirring constantly until the wine is fully absorbed. Add 1/2 cup broth to the rice, and stir until the broth is absorbed. Continue adding broth 1/2 cup at a time, stirring continuously, until the liquid is absorbed and the rice is al dente, about 15 to 20 minutes.
Remove from heat, and stir in mushrooms with their liquid, butter, chives, and parmesan. Season with salt and pepper to taste.
Time for a GIVEAWAY!
I have a few samples to share with one lucky winner! You will have the opportunity to win one black trumpet mushroom, one habanero chili, and one sample pack with three amazing vanilla beans,  three total exotic dried ingredients!
To Enter!
Leave a comment on a favorite recipe you might use the vanilla beans in! Contest ends Nov. 27 at midnight and is open to US residents only.
For an Extra Entry!
tweet a link to this contest and include @fromagechick (30A EATS) and #virtualpotluck in the tweet! Let me know you tweeted!
For Another Entry!
follow @fromagechick and @virtualpotluck on Twitter! Tweet a link to this contest with @fromagechick and @marxfoods in the tweet. Come back here and tell me that you followed and tweeted.
Last!
Go to @cookistry, our host page to check out our Virtual Potluck roundup post! Then, go to one other blog post described there,  leave a comment on that blog, then come back to 30A EATS, and tell me where you left the comment! So quick, easy, and what a neat way to get a-hold of these specialty ingredients!
The more you enter not just on 30A Eats, but with the other 12 bloggers participating in Virtual Potluck, the more you increase your chances to win!
MARX is giving a DISCOUNT!
Want cool  Marx Foods ingredients like we have used in Virtual Potluck? Just enter our secret code for a discount!
Between November 21 and 27, when you purchase from Marx Foods, just enter POTLUCK into the Coupon Code field at checkout for 10 percent off of everything. That is 10% off serious gourmet hard to find products!

Print