Today I am joining two awesome food bloggers, Jenn of Jenn Cuisine and Barb of Creative Culinary, who have spearheaded Food Bloggers Support For Sandy. 30A EATS along with other food bloggers were encouraged to post a bite of comfort food today, November 8, to help raise awareness for those that have lost so much due to hurricane Sandy.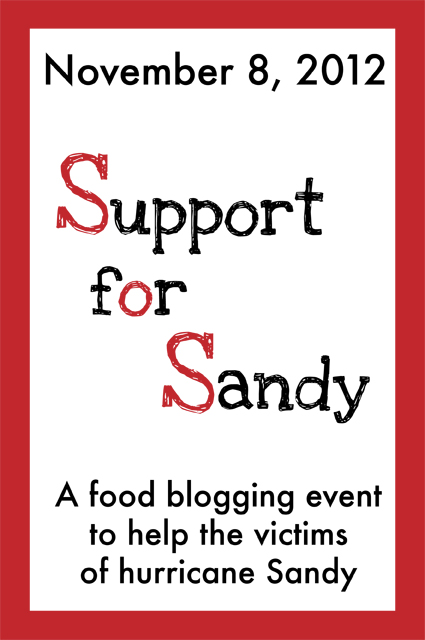 Growing up in the South, and along the Gulf Coast where it is often hurricane central, I have learned  the hurricane drill and what to expect with each storm category. As I watched Sandy roll into the North East, specifically New York and New Jersey, my heart sank as I knew with their frigid temperatures, loss of power, water and wind damage, that so many would be affected-and sadly it was confirmed.

Photo: Charles Sykes/AP from Creative Culinary
Photo: Glenn Rogers from Creative Culinary
Photo by Bebeto Matthews/AP from Creative Culinary
Along with our  comfort food virtual effort we are asking for a real effort too. We are encouraging everyone to make a donation to those in desperate need.  Several organizations are dedicating themselves to helping the victims of hurricane Sandy. Some of the larger ones include:
American Red Cross is providing food, shelter, and other forms of support to hurricane victims. You can donate directly to the Red Cross or  you can also text the word "Redcross" to 90999 to make a $10 donation.
The Salvation Army is also focused on providing food, shelter, and support to victims, and takes donations for storm relief.
Feeding America is providing food, water and supplies to those who need it as part of their disaster relief program.
We'll be tweeting using the hashtag #FBS4Sandy so be sure to ask your friends to join us.
Charlotte's Comforting Squash Casserole 
My mother Charlotte makes the best squash casserole, and no matter how I try, mine is never as delicious as hers. It is always a favorite, and a dish that I long for during the holidays.
Whether at a church social, a holiday gathering, a family dinner, or to share with a friend in a time of need, this old favorite has been the workhorse of Southern side dishes for decades. Squash casserole is the just-right accompaniment for everything from fried chicken at a summertime Sunday lunch to roast turkey at Thanksgiving.
The main ingredient is typically yellow squash, but some recipes call for other summer squash such as pattypan and zucchini. Most recipes usually include chopped onion, as well. Once you get past those two core ingredients the differences begin.
Everyone seems to have their favorite version of squash casserole, and here is mine.
Southern Squash Casserole:
Ingredients:
1 small onion, finely chopped
5 strips of bacon, coarsely chopped
3 lbs of yellow squash, thinly sliced
2 cloves garlic, minced
2 eggs, beaten
8 oz sour cream
1/2 teaspoon salt
1/8 teaspoon black pepper
1 1/2 cups shredded cheddar cheese
1 sleeve buttery crackers (like Ritz)
3 tablespoons butter
Preparation:
In a large skillet, cook bacon and over medium heat 10 to 15 minutes, or until bacon starts crisping, then set bacon aside on a paper towel.
Add onions, cooking until translucent
Add garlic, sauté until fragrant.
Add squash and sauté 5 minutes, stirring occasionally.
Toss in cooked bacon.
In large bowl, combine beaten eggs, sour cream, salt, pepper, and cheddar cheese. Mix well.
Add squash and bacon mixture to bowl. Mix well. Turn out into a greased 9X13  casserole dish.
Topped with crushed crackers and pats of butter.
Bake at 350 degrees F from 35 to 40 minutes, or until casserole is browned and bubbly.
Even $1 could make the difference in someone's life affected by Sandy, but if you just can't donate, please keep the victims close in thought and maybe say a little prayer. Thank you!

Print