I love a good sandwich, and apparently Emeril Lagasse does too, as he just completed a new cookbook titled Emeril's Kicked-Up Sandwiches.  I was recently chosen along with 22 bloggers to cook along with Emeril, and celebrate the books release on October 16, 2012.
Kicked-Up Sandwiches is filled with over 100 recipes, sweet and savory, and also has a section on bread making and condiments. The 300 page cookbook contains sandwiches that have international flair like the Banh Mi, and the classics you grew up with. I am excited to share excerpts with readers of Emeril's enticing new cookbook today through October 28th, and have one of Emeril's pre-published cookbooks to give away! If you can't wait till then, pre-order Kicked-Up Sandwiches here.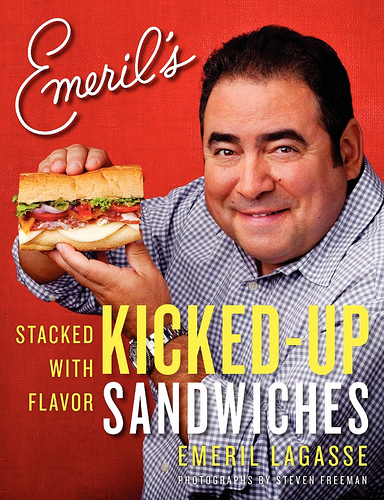 For my first post I decided to make one of my favorite sandwiches, Egg Salad, which is easy to prepare, and brings back a flood of memories from my childhood. In my early years, family vacations included long drives to visit my extended family members in Alabama, Georgia and Florida. We set out in my parents olive green and gold station wagon with wood paneling on the side, which I nicknamed, "the family truckster." My mother would buy a loaf of sandwich bread and alternate pimento cheese, egg salad, peanut butter and jelly, and put the sandwiches back in the plastic bread sleeve. We would drive along and eat as we got hungry. When the time came for my turn at a sandwich, I always kept my fingers crossed and sighed under my breath, "please-please-please", hoping mother would hand me the egg salad.
This morning I set out for Bonifay, Florida to meet my friend Farmer Rene Savory who is the owner of Twin Oaks Farms, as she invited me on a personal farm tour. She is the most amazing French woman who has the only certified organic eggs in the Panhandle area, and she sells them at the Seaside Farmers Market in Seaside near my home. I used her eggs in my egg salad, and will be posting the farm photos soon, but until then, support your local farmers when you can!
Emeril's Egg Salad Supreme
6 sandwiches, about 3 cups filling
Here's a simple, delicious sandwich. The dry mustard and paprika give it a wonderful surprising wasabi-y or horseradish-y accent.
Ingredients:
12 hard-boiled eggs
1/2 teaspoon salt
1 teaspoon dry mustard
1/2 teaspoon hot Hungarian paprika
¼ cup minced shallot
¼ cup chopped green onion or fresh parsley leaves
¼ cup minced celery
1/2 cup mayonnaise, homemade mayo (see page 309), or store-bought (I used Duke's)
12 slices White Sandwich Bread (page 303)
Preparation:
1. Roughly chop the eggs and place them in a mixing bowl. Add the salt, mustard, paprika, shallot, green onion, celery, and mayonnaise. Stir with a rubber spatula or a spoon until very well blended. Transfer to a container, cover, and refrigerate for at least 2 hours and up to 4 days.
2. Spread 1/4 to 1/2 cup of the egg salad between 2 slices of bread. Repeat with the remaining salad and bread.
For the Giveaway:
Do you have a #SeriousSandwich memory? Share it below!
More Chances!
Follow @fromagechick and #SeriousSandwich on Twitter for tips & recipes from the other bloggers, and Emeril himself!
Follow Emeril on Facebook ,and comment back here.
Follow Morrow Cookbooks on Facebook , and comment back here.
Follow 30A EATS on Facebook, and comment back here.
Follow the #SeriousSandwich Cook-along board on Pinterest!
Contest begins today and will end at midnight October 9, 2012 Central time. Participants must have a U.S. Mailing address. Winner will be chosen by random.org, and must claim prize within 48 hours, or another winner will be chosen!

Print