Music lovers rejoice, as January 18-23, 2013 will be packed with talent in South Walton for the 30A Songwriters Festival! More than twenty-five venues will be peppered along 30-A, some intimate restaurant settings and others in the beautiful outdoors, where songwriters and performers will share their compelling songs, inspirational stories, and powerful vocals.
Each location has its own special vibe, and musically-inspired stage artwork which you can view here. Best of all the  30A Songwriters Festival is located amid the stunning white sand beaches, and emerald green waters that South Walton is known for. The festival is produced by the Cultural Arts Alliance of Walton County (CAA) as its yearly fundraiser, and is presented by Visit South Walton.
30A EATS is excited to be a part of this 4th annual event and will be sharing food and music news to connect concert goers and those at home with up to date information as it happens in real-time!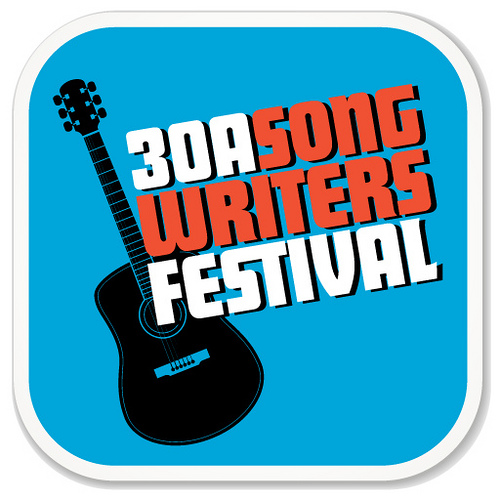 If you want to be assured your entrance to the event, I strongly suggest you Buy your tickets to the 30A Songwriters Festival online now.
Festival weekend passes are available for $165 and can also be purchased at the Cultural Arts Alliance office and at Central Square Records in Seaside. Net proceeds benefit the CAA and members of the CAA will receive an additional 10% off weekend passes. Call (850) 622-5970 to become a member and take advantage of the discount.
The 30A Songwriters Festival connects with rental agencies such as WaterColor Inn & Resort, Rosemary Beach Cottage Rental Company, Sunburst Beach Vacations, and others to offer only the best accommodations to concert goers.  Many offer up heavily discounted or free weekend passes when you book your stay. Click here for special lodging packages.
The festival will feature more than 125 songwriters and 200 musical performances which range in style from folk, country, blues and rock.
The insanely talented and nationally-acclaimed headliners for the festival are Lucinda Williams, Nanci Griffith, Shawn Mullins, Mary Chapin Carpenter, Jeffrey Steele, Suzanne Vega and Fastball.
Confirmed artists include Will Kimbrough, Tift Merritt, Allison Moorer, Charlie Mars, Eliza Gilkyson, Freedy Johnston, Randall Bramblett, Chuck Cannon, The Shadowboxers, Melissa Ferrick, Joe Leathers, Kyle Jacobs, Kim Richey, Gretchen Peters, Brigitte DeMeyer, Pete Sallis, Alan Rhody, Jerry Salley, Tommy Womack, Vicki Peterson, Susan Cowsill, Chas Sandford, Bill Mallonee, Donnie Sundal / Boukou Groove, Shannon Whitworth, Tommy Talton, Grayson Capps, Cory Chisel, Ray Bonneville, Webb Wilder, Don Dixon & Marti Jones, DeAnna Cox, Ruston Kelly, Jeff Black, The Quaildogs, Hope Cassity, Geoff McBride, Daphne Willis, Reed Waddle, David Berkeley, Davin McCoy, David Olney, Brian White & Karyn Williams, Bobby Houck of the Blue Dogs, Phillip Lammonds, Cooper Carter & the Royal Senders, Wesley Cook, Parker & Parker, Boxtop Jenkins, Mike Whitty, Jeep Rosenberg, Jonathan Singleton, Jon Nite, Tony Lane, Jaren Johnston, Andrew Combs, The Blue Ribbon Healers, Sterling Fletcher, Kyle LaMonica, Dannica Lowery, Diane Durrett, Eliot Bronson, Gabriel Kelley, Humming House, Jill Andrews, Kellin Watson, Kelsey Anna, Ashleigh Flynn, Max McCann, Steve Bogard, Hannah Thomas, The Owsley Brothers, Seth and May, Jessica Cayne, Julia Othmer, Kaydi Johnson, von Grey, Chris Alvarado, The Saint John's, Rebecca Pronsky, Abigail Rose, Holly Renee Allen, Hannah Miller, Megan Redmond and Brooke Annibale.
"The 30A Songwriters Festival has quickly gained a reputation among musicians as a forum for true songwriters to perform their self-penned songs, as well as established performers to showcase their original compositions," said Russell Carter, 30A Songwriters Festival chair and producer and owner of Russell Carter Artist Management. "We book artists with diverse musical styles. Our emphasis is the art of the song."
WaterColor Inn & Resort will once again serve as festival headquarters, but  there will be many places to eat delicious food and grab a libation while viewing all of the great performances. From the quaint Summer Kitchen in Rosemary Beach, the expansive Caliza Beach, 723 Whiskey Bravo, or the beautiful Bud & Alley's stage, 30ASWF has you covered. Click here for a full listing!
Mark you calendars for Wednesday, January 16th, as Emily Saliers of the Indigo Girls and Mary Chapin Carpenter take the stage to perform in the round for a special pre-Festival membership drive for the Cultural Arts Alliance!
Lucinda Williams and Nanci Griffith are also confirmed for a Sunday afternoon concert at the Seaside Amphitheatre. Make sure to scout out CRUSH, Central Square Records, and Bud & Alley's Pizza Bar, also venues for the festival.
A new amenity this year will be complimentary festival shuttle service up and down Scenic 30A Friday, Saturday & Sunday nights. Shuttles will run continuously from 5:00 – 11:30pm picking up and dropping off festival attendees each 15 minutes at eight different shuttle stops.
"We are honored to feature talented artists from around the country who are generously supporting the CAA and our mission to grow the arts in Walton County, and make it a destination for cultural and artistic excellence," said Jennifer Steele, festival producer and executive director of the Cultural Arts Alliance of Walton County. "South Walton celebrates a thriving arts community, and we are proud to showcase our local talent, alongside nationally-acclaimed songwriters and up-and-coming artists, to raise funds and awareness for arts education initiatives that benefit the children of Walton County."
For more 30A Songwriters Festival information with the updated lineup, photos, bios and links for every artist, click here.