Contributor, Susan Benton
With an abundance of new resorts, refreshed hotels, and incredible spas that really deliver, it's no wonder that so many call Phoenix an oasis in the desert.
Upon airport arrival this summer, I was whisked right past the triple digit temperatures and into a cool cab that arrived at The Scottsdale Fairmont Princess Resort, with the accolades of AAA, five-diamond sanctuary behind the name.
I love when business and pleasure collide, and after entering my room dripping with Spanish architecture over looking the lush scenery and waterfall from the balcony, I made my way to one of the hotel pools on site to cool off and meet up with a few other writers.
This kid-friendly, pet-friendly, spa and golfers paradise, also offers four amazing restaurants to walk to on property, and we were fortunate to dine at La Hacienda by Richard Sandoval. The fresh, modern Mexican cuisine led by Chef Forest Hamrick is in a class all of its own, and why they were voted the #1 Mexican Restaurant in Arizona. "Old Hands, New Ways" is their motto, and it is definitely reflective in their food presentations.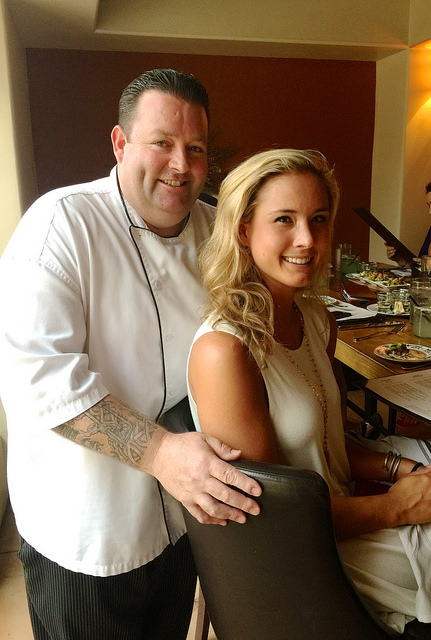 The triple threat guacamole was out of this world, and the tequila bar has over 200 varieties, and a tequila goddess on hand to share her knowledge of tastings, as well as pairings with the menu selections. The snakebite is a must order.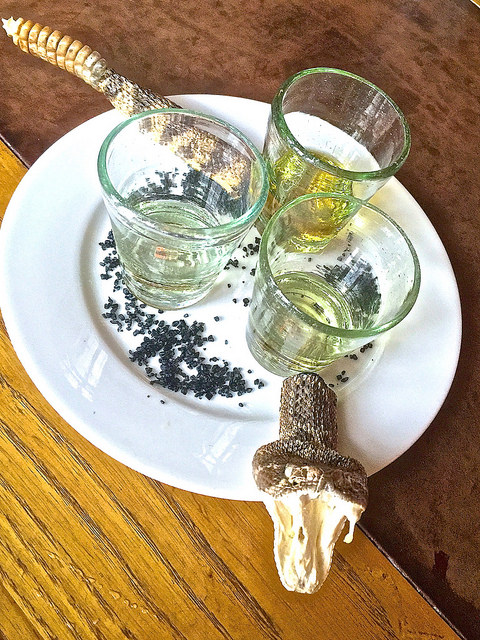 I dreamed all night about Joe's Farm Grill, our morning destination, having viewed them on Food Network's Diner's, Drive In's, and Dive's. Located in the quaint suburb of Gilbert, it is a unique farm by table experience, where the fresh picked produce, herbs and fruits are harvested and used the same day. Joe Johnston, the owner, actually grew up in Gilbert on his family's cotton farm in the 1960's, and the restaurant is located in his original home, converted into the period retro architecture of its time, a great environment to nosh on the quintessential burgers, mine of course a double, and topped with a farm egg. I mean it was breakfast!
The neighborhood surrounding Joe's Farm Grill is called Agritopia, an urban farm with 160 acres of certified organic farmland, including pathways allowing residents and visitors to view the crops. Fruit trees, rows of produce, chickens and sheep fill the landscape, along with 450 + single-family homes, each with a front porch to encourage conversation. Johnston, a true visionary, and his family, all reside nearby and work with the farm, the farm stand, and the restaurants on site. The farm supplies local chefs and purveyors with food, and is a co-op, as well as a place for those that might just want their own little 12×12 plot to tend to. Assisted living and a charter school are within reach, truly making this a life experience to absorb.
Native grains and growing heirloom wheat with minimal processing were next on the agenda at a family-owned flour mill featured in the documentary, "The Grain Divide." Hayden Flour Mill at Sossaman Farms in Queen Creek showed me a few trending pasta techniques they are using, as well as what is on their agenda to be highlighted later this year with artisan breads, wheat berries, bourbon, craft brews, and grain based oils. I shoved a gratis bag of fresh ground cornmeal in my purse, adding a touch of Benton bacon grease once home, for my specialty cornbread that everyone raved about. Keep these folks on your radar.
While still in Queen Creek, an important stop just east of Mesa is Queen Creek Olive Mill. The impressive working olive mill and farm is Arizona's only family owned and operated. Grown at the base of the San Tan Mountains, an area known for its fertile soil, long sunny days and cool desert nights, the olive trees thrive in the ideal conditions. Queen Creek olive mill offers a tour, tastings, and shipping of their variety of oils and gifts that I took advantage of. But, you will not want to depart this top 5 foodie destination in Arizona, without indulging in the mills Tuscan inspired eatery that serves gourmet sandwiches, Panini's, soups, salads, gelato and espresso at Superstition Coffee.
Arizona is also famous for microbreweries, but Arizona Wilderness Brewing Co. was Gilbert's first opening in 2013, and quickly moved up the ranks to "Best New Brewery in the World' according to Ratebeer.com. Using nearby ingredients from local farms in their artisanal ale, along with great bites on the menu like Bavarian Pretzel Sticks with sea salt, served with beer cheese and beer mustard, or a basket of hand-cut fries cooked in duck fat oil and served with house garlic aioli, this is the trendy place to enjoy an afternoon among friends, and a refreshing Refuge IPA.
In the heart of downtown Phoenix, another hot spot not to miss is dinner at Blue Hound Kitchen, where you'll find seasonal American fare meant for sharing and pairing; with craft cocktails, wine, beer, and the Valley's largest selection of brown spirits. It's gastro-lounge food that's fine-tuned to the modern desert lifestyle, skipping heavy creams in favor of lighter methods to bring out the fresh flavors of the ingredient driven menu. Executive Chef Sean Currid uses his top connections with purveyors to weave together his skillfully straightforward cooking style, serving a variety of brick oven flat breads, delicious salads like the seared Ahi with avocado, cucumber, pickled chile, and cilantro, or entrees like Arctic Char with lemon couscous, black garlic yogurt, orange, and olives.
Switching things up I headed to the Westin Kierland Resort & Spa, known for their heavenly beds, but at this location, also for their handsome Scotch library, Scotch tastings, and dining at restaurant deseo, meaning desire in Spanish, that showcases Nuevo Latino cuisine. The evening began with Scottish bagpipes playing hauntingly at sunset in a tribute to Scottish immigrants. Then it was on to view the more than 100 single malts and 25 blends imported from all six-whiskey regions in Scotland, and to enjoy a sip or three of a 2-ounce pour, assisted by the Scotch Library Ambassador.
Ready to dive into the culinary scene again, we were just steps away from deseo, the AAA Four Diamond restaurant, also voted "America's Best New Restaurant" by The James Beard Foundation, and one of "America's 100 Best Wine Restaurants 2014" by Wine Enthusiast. The hype matched the pairing of traditional Latin American and contemporary ingredients, creating a unique range of mouthwatering ceviches, grilled and roasted fish and shellfish, and prepared meats with tantalizing South American-inspired marinades, sauces and sides. If you want one of the best seats in the house, ask for "The Rail" when making your reservation, 12 seats that overlook the open kitchen.
A Phoenix point of pride is a visit to the Desert Botanical Garden, one of the few accredited by the American Association of Museums, showcasing the world's finest collection of arid-land plants, complete with Chihuly glass sculptures rising from the earth. Natural wonders are to behold here, along with educational classes, dining experiences and hands-on workshops. My stop included a healthy cooking class with chef Jason Wyrick.
One of the most memorable gastronomic experiences found while in Phoenix, was lunch at Vincent's on Camelback with chef Vincent Guerithault, a pioneer for driving the culinary scene in Phoenix for more than three decades. He combines his passion for French techniques with Southwestern ingredients, both of which I am a sucker for. Winning the first ever Citation of Excellence from the Food & Wine Society, not to mention a James Beard Award as America's Best Chef: Southwest 1993, and many accolades since, my attraction was to the authentic European bistro he has created. The chalkboard on the wall is changed daily to highlight the freshest selections, like the house made pesto pasta with rainbow trout that I highly suggest, along with the show stopping desserts, including the Raspberry Clafoutis with Amaretto Ice Cream.
Positioned in the heart of the picturesque mountains along with local and national parks, adventure-seekers, foodies, and those looking for the best family activities will delight in the array of options that the Phoenix area has to offer. Having never traveled to Phoenix before, I for one am looking forward to wrapping my arms around this town's culinary scene once again, and indulging in some of the world's most luxurious and award winning resort spa treatments, which I did not have a chance to while on this delicious excursion.
How To Get There: 
Panama City Beach and Pensacola provide connecting flights on Delta to Phoenix Sky Harbor International Airport.
Resources:
Visit Phoenix
Visit Mesa
Where To Stay:
Fairmont Scottsdale Princess Resort
http://www.fairmont.com/scottsdale
Westin Kierland Resort & Spa
Where To Eat:
La Hacienda
http://www.fairmont.com/scottsdale/dining/la-hacienda
Joe's Farm Grill
Blue Hound Kitchen
deseo
www.kierlandresort.com/fine-dining-at-scottsdale-restaurants/deseo-nuevo-latino-cuisine
Arizona Wildreness Brewing Co.
Vincent's on Camelback
http://www.vincentsoncamelback.com
What To Do:
Agritopia
Queen Creek Olive Mill
http://www.queencreekolivemill.com
Desert Botanical Garden
Hayden Flour Mill
http://www.haydenflourmills.com
The Fabulous #FoodiesInPhoenix:
Theresa Greco, Food Hunters Guide
Jennifer Drummond, Peanut Butter and Peppers
Michelle De La Cerda, The Complete Savorist
Susan Benton, 30AEats.com