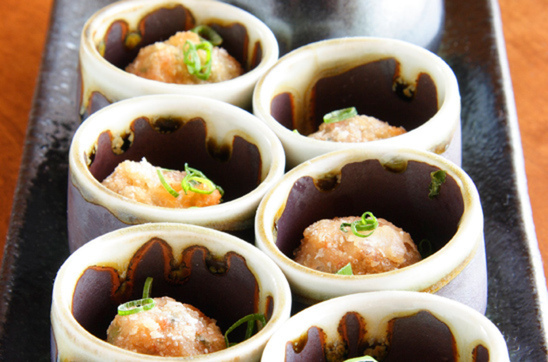 Chef Kent Rathbun is the owner of the 13-year-old crown jewel on Dallas's dining scene, Abacus Restaurant. He is also famously known for defeating Bobby Flay on Iron Chef America, along with his brother Kevin Rathbun, an Atlanta Restauranteur, who was last seen about town at the Destin Charity Wine Dinner and Auction.
I visited Dallas last week and did not start off with a great dining experience, so when I was invited to Abacus, and read the mixed reviews about the James Beard Nominated restaurant, my expectations were moderate at best.
Chef Kent Rathbun cast aside those misconceptions and surprised with an imaginative menu and delectable food offerings that began with his famed Lobster Scallion Shooters (wonton pockets filled with lobster meat, cradled in a sake cup and topped with red-chili coconut broth).
Chef Rathbun delightfully walks the line between the familiar comfort foods of home, and then flips them into something fun, yet innovative for casual fine dining, while his appealing menu of International & Texan cuisines sing of these harmonious and inviting flavors. He prefers his food not be labeled "fusion", as he is proud of the diverse platings that he claims to be, "independent tastes of each other."
The sleek and open dining room is elegant in design, though my group was seated in a reserved private side room where we next shared "small plates" of Bison Bruschetta and Seared Scallops.
We then ordered from the wine list (heavy on California), but none-the-less impressive. Also impressive were the wait staff that were attentive to each of our diners needs throughout the meal, and very hospitable.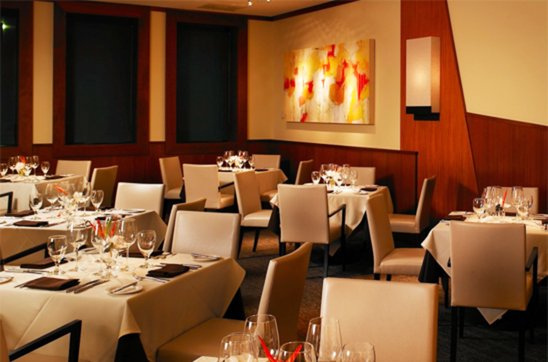 My entree of fresh pan seared Walu, a Hawaiian fish, was the highlight of my evening. It was presented in a shallow dish accompanied by Wagyu beef pot stickers, snap peas, baby Shitake mushrooms, and bathed in a white soy lemongrass broth.
My husband dined on a wood roasted filet of beef tenderloin seasoned perfectly with a delicate crust, sitting atop a bed of luscious black truffled potato puree with a fine drizzle of Sangiovese butter and brussel sprout leaves on the side. The dish was magnificent and won praises from other diners in the room as well.
I spoke with Chef Rathbun after our culinary experience, and expressed my delight in finding his cuisine so spot on, even with the recent loss of Chef Aaron Staudenmaier to the Boot Ranch, and again raved about our impeccable service. It was an unexpected pleasure, and truly an experience to be savored time and again.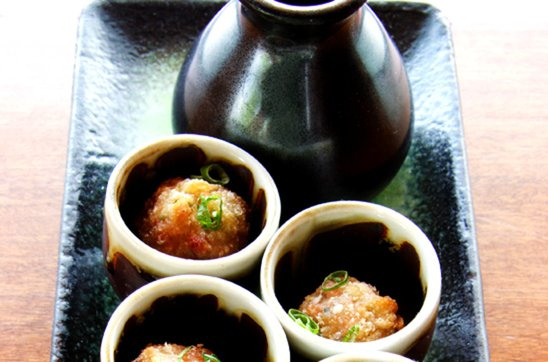 Lobster and Scallion Shooters
Signature dish at Abacus Restaurant Dallas
Kent Rathbun Elements Red Curry Coconut Sauce is available for purchase here.
Ingredients
Filling:
2 ounces sesame oil
2 tablespoons garlic cloves, peeled & minced
2 tablespoons shallots, peeled & minced
2 tablespoons lemongrass, minced
2 tablespoons ginger, peeled & minced
1 pound lobster meat (cooked), ground or chopped fine
¼ cup tamari soy sauce
2 tablespoons sambal chili sauce
¼ cup scallions, chopped fine
2 tablespoons mint leaves, chopped fine
2 tablespoons thai basil leaves, chopped fine
2 tablespoons cilantro leaves, chopped fine
For the dumplings:
32 pieces dumplings wrappers, cut 2 inchs by 2 inchs
2 each eggs, whipped
1 cup corn starch
2 cups peanut oil
Preparation:
Filling:
1. In a medium saute pan, saute in sesame oil the garlic, shallots, lemongrass
and ginger until slightly browned.
2. Add the lobster meat, soy sauce, sambal and continue cooking for about one
minute. Remove from heat and transfer to mixing bowl and cool.
3. After mixture is cool add the scallions, mint, basil and cilantro. Mix until
incorporated.
Dumplings:
1. Lay out dumpling wrappers evenly on a flat surface, then brush a thin layer of
egg on each wrapper.
2. Place a small amount of the mixture in the center of the wrapper.
3. Then fold the edges of the wrappers up around the mixture and squeeze the
edges to seal the dumpling.
4. Spread the corn starch on a cookie sheet and lay dumplings on the corn
starch (this helps to keep them dry and crunchy)
5. Deep fry dumplings in 350 degree peanut oil until golden brown.
6. Serve with red curry coconut sauce. Available at www.kentrathbun.com
Chef Kent Rathbun of Kent Rathbun Concepts
Created with MacGourmet | Original design by Adam Particka.