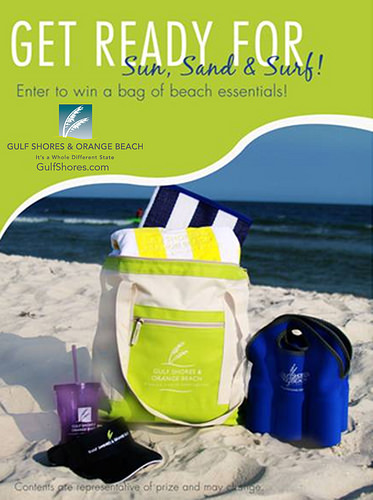 I love living on the Gulf Coast and if you follow my blog you know that already, but sometimes I like to go on a quick get away. Back in 2006 we began doing just that: to the Alabama Gulf Coast.
Raising my now college kids on 30A in the Florida Panhandle was wonderful and often like a vacation, but real vacations were few and far between due to my husbands practice and surgical schedule.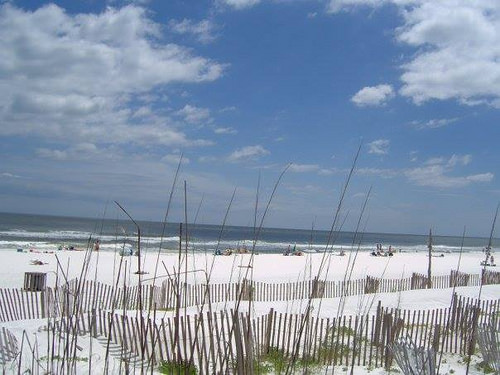 With my husbands hospital being located near Downtown Pensacola, I thought the Alabama Gulf Coast made perfect sense as I could plan a few days away and he could drive over when work permitted-like tonight!
The Alabama Gulf Coast is a short drive from many cities so I can't imagine wasting money flying to a location for just a few days when those  tourism dollars could be spent on the best Gulf Coast Seafood, charter fishing trips, spa days, and other fun actives like visiting the Art of Alabama Food exhibit taking place right now. It is showcasing 36 iconic dishes on display representing roadside eateries and fine dining rooms from across the state.
See the Orange Beach show through Aug. 9 at The Compleat Studio at The Wharf, Wed. through Sat. from 4 to 10 p.m. Admission is free.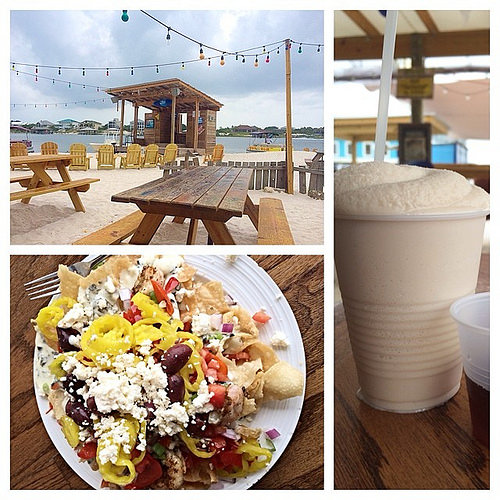 My daughter and I drove over yesterday from our home in South Walton Beach, but sadly it was raining upon our arrival. There was no need to worry as we found our way to the Flora-Bama-Yacht-Club for a Bushwacker and Greek Shrimp Nacho's to brighten the mood. It is located right across from the Flora Bama Lounge & Oyster Bar and offers tropical drinks, a great menu, cool tunes, and a laid back  atmosphere.
Since our room still was not ready at Perdidio Beach Resort, we scooted down the road to Gilbey's Seafood and Steak. The exterior facade did not reflect the gorgeous setting to be found inside. They have a private dining space, modern banquette leatherette seating, bar seating and tables cloaked with white tablecloths. Really pretty. Also beautiful were all of the food preparations we saw floating by. We were full from our nacho's, so decided on baked oysters for a snack and the free, yes… FREE martini's (one per person) offered at lunch from 11 am to 4pm. The menu looked so amazing, and I can't wait want to return for a full meal soon.
The cell phone dinged and it was Perdidio Beach Resort letting us know our room with pool view was ready. I loved our view from the west tower as you can watch the boats come in and out of the pass all day. As someone who likes to fish, I am always wondering what catch of the day they are hauling in.
Since the rain had stopped we headed for the beach with our towels, books and magazines in tow. Some mother-daughter time is always nice to catch up on, especially on this visit as Caroline heads back to college tomorrow.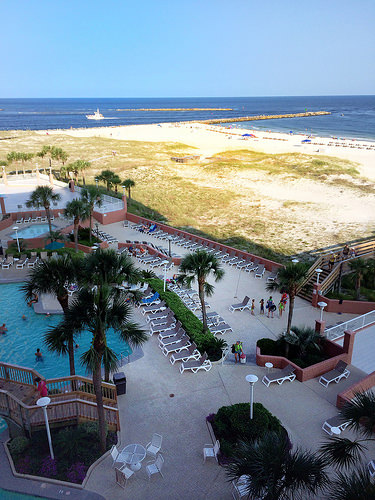 We decided on Voyagers restaurant for dinner where Executive Chef John Hamm and Chef Brandon Burlson are at the helm. It has won many awards and last nights dinner rejoiced why. Chef Brandon suggested the Oyster's Camille to start. It is his signature oyster dish named after his mother (and the 1969 Hurricane). The oysters were nestled in a creamy smoked corn sauce and topped with bacon, just delicious.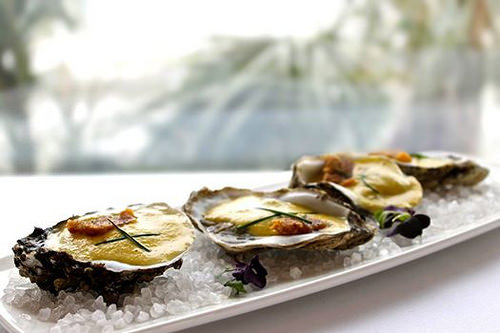 Caroline had a beautifully prepared filet topped with fois gras on a bed of asparagus, and Chef Brandon suggested the Fruits De Mer to me. It was a true representation of Gulf Coast gold on a plate. Filled with fresh lobster, sea scallops, bay scallops, local caught shrimp and hand made pasta, it was a decadent dish and probably one of the best pasta platings I have savored in years.
We turned in early after the wonderful meal and woke today to sunny skies. Caroline headed to the pool and I had a meeting over at Turquoise Place, part of the Spectrum Resorts also in Orange Beach. Executive Chef Brody Olive gave me a tour of the "spec"tacular property. It, along with their sister property The Beach Club are certainly going to be at the top on my list for a return visit sooner than later!
Stay tuned for more to come on my Alabama Beach Visit, but in the meantime head over to my 30A EATS Facebook page and/or my Gulf Coast Restaurants Facebook page and give them a "like!" Thanks to #AlabamaBeaches (Twitter Handle) I am giving away a Big Beautiful Beach Bag full of swag by noon tomorrow!
Then at 5:30pm tomorrow afternoon join #AlabamaBeaches for a twitter party and a fun time with gift cards up for grabs! My 30A EATS twitter handle is EATER30A ! My friends joining me in the party are @BiteandBooze, @MissInTheKitchen, @FarmGirlGourmet and @DBCurrie. See you then!