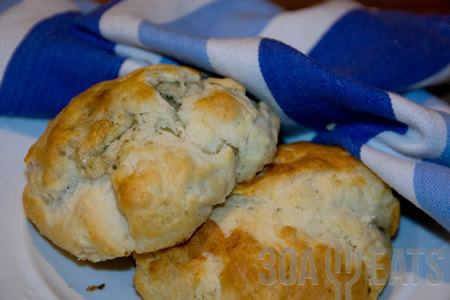 Bleu Cheese Biscuits
20 biscuits
Ingrediesnts
1 1/2 cups flour
1/2 tablespoon baking powder
1/2 tablespoon sugar
1/2 teaspoon pepper
1/4 teaspoon soda
2 tablespoons butter
1/2 cup blue cheese
1 tablespoon chives
3/4 cups buttermilk
2 tablespoons melted butter
Preparation
Preheat oven to 450°. Combine dry ingredients. Cut in butter with your fingertips until it resembles coarse meal.
Add blue cheese and chives. With a fork, mix in the buttermilk until it comes together.
Roll dough into a ball and press into a flat disk on a flowered surface until it is 3/4-inch thick.
Using a 1 1/2-inch biscuit cutter, cut out rounds and transfer to a baking sheet.
Bake 10 to 12 minutes until golden.