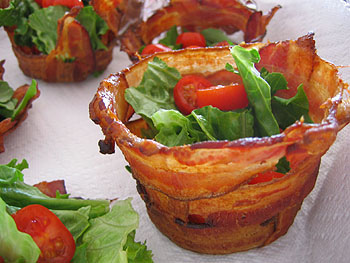 Bacon is beloved to many, and a favorite ingredient used in creative and innovative ways. This recipe is one that has a genius twist, as instead of relying on a bowl, tortilla shells or bread as a vessel for your food, you can use bacon! Here is how to make bacon cups.
Bacon cups
Ingredients:
5 to 7 bacon strips per "cup"
Your choice of food to fill each cup with.
Suggestions include:
Turkey, Swiss and Sauteed Mushrooms
Lettuce and Tomatoes (BLT)
Spinach, Chopped Eggs, and Toasted Pecans
Cheddar cheese & Egg scramble
Macaroni & Cheese
Directions:
Preheat the Oven to 400 degrees
Turn a regular sized muffin tin upside down using convex side for molding
Lay foil over muffin mound using as many as you need for cups
Weave the bacon over the mounds, repeat with side weaving. Use leaner bacon to avoid shrinkage.
Bake for 15 minutes and monitor crispness.
Cool and remove from foil
Fill your cups! I like the BLT with my Chipotle RanchDressing.
Note: Do not use cooking spray on the foil as the cups will not hold their shape, and be sure to put a cookie sheet with a rim below the cooking bacon in the oven to catch bacon drippings! Use mini muffin tins for appetizers.
Chipotle Ranch Dressing
Recipe:
1 chipotle chile from a can of chipotle chiles in adobo sauce
2 teaspoons fresh lime juice
1/4 cup chopped fresh cilantro leaves
1/2 cup mayonnaise
1/2 cup buttermilk
1/2 teaspoon ground cumin
1/2 teaspoon garlic powder
1/4 teaspoon dried oregano leaves, crumbled
1/2 teaspoon kosher salt, or to taste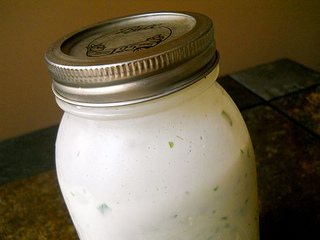 Preparation:
Place all ingredients in a blender; cover then blend until smooth.  Use immediately or refrigerate in a covered container.  Dressing may be kept, refrigerated, for up to one week.
Bacon Cup Recipe and Photo credit by NotMartha.com