There is much-awaited anticipation for the spring to arrive on 30A, as that is when all of the restaurants are back open for business, with tourists and locals like myself in culinary heaven once again. Many eating establishments take a break when school begins in the fall, or right after the Christmas season ends. One of these food establishments is Charlie's Donut Truck located among the beautiful architecture in the picturesque town of Alys Beach, Florida.
Charlie's Donuts has become a favorite among young and old alike, with many lining up early in the morning to feast on their daily delights. Last spring the truck added a new second order window to help reduce the wait time in line.
The Donut Truck established in the spring of 2008 already has cult-like following, attracting national celebrities and their families year after year. The converted Sunbeam Bread truck-a throwback to childhood, is a permanent fixture in Alys Beach even when not in use, as it has no engine or transmission.
Charlie's Donut Truck is owned and operated by part-time local 30-A resident Charlie Mingus, who also resides near Bonifay and owns Donut Land, as well as two other shops in Daleville, Alabama and one outside the gates of Ft. Rucker. His partner is John Smith whom he met when building his home in Bonifay, as John worked for Charlie as a sub-contractor.
Charlie, a retired Army helicopter piolet and a disabled veteran, listened to Johns stories about befriending a local German donut baker, and his desire to taste those special donuts once again.  John, also military, learned how to make donuts when stationed in the Army in Heidelberg, Germany from 1995-1997, and obtained the authentic recipe from the baker.Together the pair decided it would be a fantastic idea to recreate John's German donuts, and go into business together.
Charlie, an astute businessman, knew the product had to be great, so he and John made sure that the donuts were to be made fresh everyday.
Charlie's Donut Truck has dough that is yeast risen daily. The donuts are made by hand and then rolled, cut, dipped and filled using "elbow grease" the old-fashioned way. Charlie says. "We don't have big machines that just crank out the donuts!"
They use the same technology that was used in the 1920's and 1930's, and also use kitchen supplies from the same time period. The entire donut making process takes two hours from start to finish, and then two to three minutes cooking time.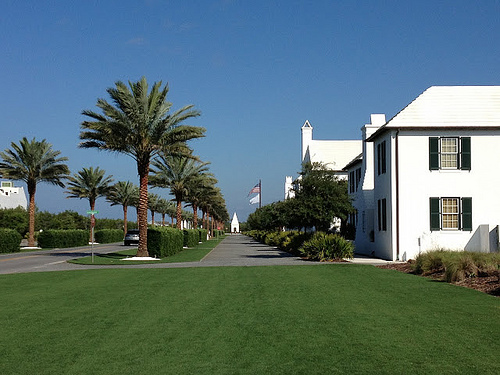 Charlie's Donuts produces twelve to thirteen varieties each day, and the donuts are never kept overnight. Charlie says, "We try to be as healthy as possible-we are talking donuts here- and use clean vegetable oil to fry the donuts in."
My personal favorite, and it appears the favorite of many based on their sales, is the Sour Cream Donut made similar to a pound cake. Charlie says, "It is a good 3 ounces and to die for! People drive from Geneva to Bonifay all of the time, because they are just that good!"
Other favorites include the red velvet cake, blueberry, and a rainbow of sprinkles.
Prices are very competitive, especially for the quality and handcrafted goodness that comes with each bite. Charlie believes the customers can tell the difference between his donuts and that of chain shops, and I for one have to agree.
Charlie's Donut Truck is located in Alys, Beach Florida on Somerset Street. Hours of operation are 6:30am until Sold Out. Phone (& Special orders) 850-547-2960.