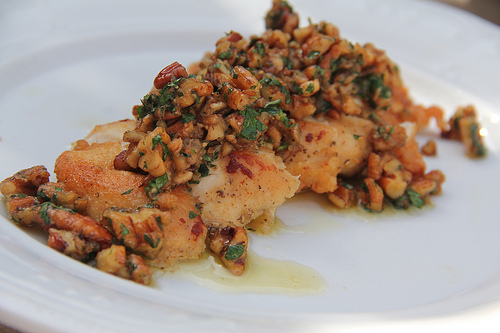 With the kids now off to college I am learning all to fast about cutting recipes in half, and this week was on a roll. It still has been raining quite a bit in Northwest, Florida, which has given me the opportunity to throw myself into developing new recipes, as I set out on my latest endeavor of writing a cookbook with my local farmers, producers and chefs. I am really excited about this project, and starting my own non-profit, as all proceeds raised from the cookbook sales, will be donated to a community fund, which a board of local food activists will oversee.
In this post I am cooking with Anolon Ulta Clad, and quite happy to do so. Anolon recently sent me a couple of products to take for a spin, and I really, really, liked them! I promise, that if I did not, I would tell you the truth, or would just not write about them.
First, Anolon and I agree on a few core values:  locally grown food, family, and community.
Analon says, "Our goal is to build public awareness about the many advantages of cooking with seasonal, locally grown food. We seek to encourage Americans to not only cook more frequently at home, but also to adapt a style of cooking that benefits themselves, their communities and our planet.
Our educational efforts will focus on demonstrating the following:
The importance of good ingredients and quality cookware to preparing delicious food with success.
The mental and physical health benefits of slowing down to cook and enjoy a simple meal alone, or with family or friends
The health benefits of eating food that is fresh, seasonal and minimally processed.
The benefits of buying local and sustainably produced food to local economies and the environment.
The progressive work of national nonprofit organizations, as well as acclaimed restaurant chefs, cookbook authors and other culinary leaders who support the sustainable food movement.
After visiting my local Seaside Farmers Market on Saturday, I picked up everything I needed for the dishes I planned to prepare, and bought everything else at my local family owned Modica Market, also located in Seaside, Florida.
My husband arrived home from working in Pensacola with some flowers for me (sweet), and a hungry appetite!
We saute'd ground meat, saute'd and browned mushrooms, made home-made pasta sauce, browned paneed chicken, and saute'd a meunier pecan sauce testing the two Anolon Ultra Clad pans sent to me. The heat conductivity and even cooking was incredible, the chicken browned perfectly, the pans were so easy to clean ( I washed them by hand though dishwasher safe), there was nothing that stuck, and I loved both pans across the board.
Recipe:
Chicken Meuniere
Ingredients:
5 tablespoons extra-virgin olive oil, plus more for finishing the sauce if you like
6 tablespoons unsalted butter
4-6 boneless skinless chicken breasts
All-purpose flour for dredging
5 cloves garlic, crushed and peeled
6 thin lemon slices (about 1 lemons)
4 ounces roasted chopped pecans
1⁄4 cup freshly squeezed lemon juice
1⁄4 cup dry white wine
1⁄4 cup vegetable stock
2 tablespoons chopped fresh parsley
Salt and freshly ground black pepper
Preparation:
1. Preheat the oven to 250 degrees F. Heat 3 table- spoons of the olive oil and 4 tablespoons of the but- ter in a large, heavy skillet over medium-high heat until the butter is foaming.
2. Pound chicken with the flat side of a mallet, by placing chicken breast side up between two layers of plastic wrap. Season with salt and pepper. Dredge the chicken fillets in the flour to coat both sides lightly. Gently lay the chicken breast in the pan as fit without touching. Cook just until the under- side is lightly browned, about 4 minutes each side. Flip them gently with a wide metal spatula, and cook until the second side is browned. Transfer them with the spatula to a baking sheet, and keep them warm in the oven.
3. When all the chicken has been browned, carefully wipe out the skillet with a wad of paper towels. Add the remaining olive oil and the remaining butter and crushed garlic, and return to medium heat. When the butter is foaming, slide in the lemon slices, and cook, stirring gently, until they are sizzling and lightly browned. Stir in the pecans, and heat until they are sizzling, about 1 minute. Pour in the lemon juice and wine, bring to a boil, and cook until reduced by about half. Pour in the vegetable stock, bring to a boil, and boil until the sauce is lightly thickened, about 2 minutes. If you like, drizzle in a tablespoon or two of olive oil to enrich the sauce. Sprinkle in the parsley, and taste, seasoning with salt and pepper.
4. Remove the chicken from the oven, and set one chicken breast in the center of each plate. Take the lemon slices out of the sauce, and top each Chicken breast with one or two of them. Spoon the sauce around the chicken. Serve immediately.
Note: To roast the pecans, spread whole pecans on cooking sheet and roast for 10 minutes at 350 degrees, Remove from oven, cool, then chop.
My Virtual Potluck crew is also trying out different cookware from Anolon, and each blogger will have different recipes and experiences, so check them out too!
Miss In the Kitchen: Chicken Broccoli and Cheese Trottole
Cooking With books has : Our First Chili: A Love Story
Bite and Booze has:  September Class at Fresina's with Analon
Food Hunter's Guide: The Everything Pan: A Review
Thyme In Our Kitchen: Squash Blossom and Quinoa Stir-Fry
Diabetic Foodie: Mahi Mahi Chowder
Cookistry: Homemade Tomato Sauce
Farmgirl Gourmet: Whole Wheat Applesauce Pancakes with Fresh Peach Compote

Feeling Lucky? (ENDED)
I have one gorgeous Anolon Ulta Clad 10 inch skillet to give away, a value of $90.00! It is dishwasher safe, has a Lifetime Limited Warranty, has an oven temp of 400 degrees, is suitable for any cooktop, and has a non-stick surface and stainless exterior with a silicone handle to make cooking a breeze! If you watch Top Chef Masters, you have seen them cooking with Anolon products as well!
1)  Subscribe to 30A EATS for great recipes like this one! 
2) Leave a comment below telling me what you'd like to cook in this skillet.
3) Follow 30AEATS on Facebook and leave a comment on the Analon Giveaway.
3) Tweet  @fromagechick: "I want the @Analon Ultra Clad Skillet at #30AEATS!"
4) Stumble this post.
5) Follow 30A EATS on Pinterest, and Pin this post!
6) Click Facebook Share Below!
7) Follow Anolon on Facebook!
Thank you for entering!
All entries will be counted, and a winner selected by random.org. Today, September 17, 2012 the contest begins, and it will end September 24, 12:00 pm Central. Winner must have a US Mailing address. Winner will be notified by email, and have 48 hours to claim the prize before a new winner is chosen.