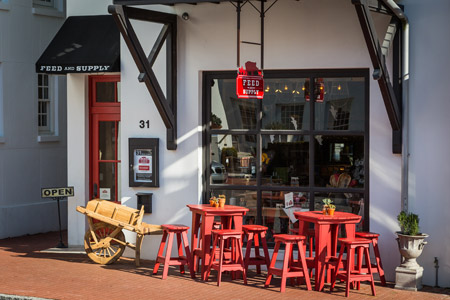 CK Feed & Supply opened in the heart of Rosemary Beach to rave reviews. Owner Nikki Nickerson wanted a place that would capture the spirit of her sister restaurants, Cowgirl Kitchen in Rosemary Beach and Seagrove Beach, yet feed the soul of the weekend chef. Nickerson says, "I love to cook and entertain friends, and we take turns having dinner parties at each others houses trying new foods and wine. I know many others do the same, and CK's Feed & Supply is here to help." With an array of foods like Route 11 Chesapeake Crab Potato Chips, to the finest Italian cookware, there is something for every one.
Nickerson is well known in the area as an award winning real estate agent with Keller Williams Realty, and as the owner of Cowgirl Kitchen Market in Seagrove, with her flagship location in Rosemary Beach. Since opening in 2003, I personally have frequented Cowgirl Kitchen Market in Seagrove, relying on the take out casseroles when juggling two kids, their schoolwork plus sporting activities, and can vouch for their deliciousness and crowd-pleasing results. Prepared breakfast sausage balls and a variety of dips and spreads are also popular options to go. Nickerson says, "When the new space across the street became available we were excited. We needed more room in the Rosemary restaurant location, and the addition of CK's Feed & Supply allowed us to focus and expand our take out offerings."
Some of the offerings available at the CK's Feed & Supply-Rosemary and Cowgirl Kitchen-Seagrove include the house made grab and go dips and spreads such as Artichoke Green Chili Dip, Smoked Tuna Dip, Chicken Salad, Texas Caviar, and a wonderful assortment of soft specialty cheeses and boutique charcuterie from Creminelli and Olli purveyors. All perfect items for a party or a picnic at the beach. Nickerson says, "We have sample tastings and will have chef cooking demonstrations!"
Name brand products line the shelves dripping with creative ideas for the home cook, like Il Mulino Pasta sauces from New York, award winning Cypress Grove and Cowgirl Creamery cheeses, and Olli Salumeria.  Nickerson says, " You have got to see the Jan Barboglio handmade glassware, Casafina dishes, Be-home olive wood bowls and serving ware, the European cutting boards, and Mepra Italian cookware. They are all amazing!"
My eyes lit up when Nickerson started talking about Cowboy Bacon-a specialty hormone free bacon from Penderson Farms in New York. Local purveyors are also represented, like Southern Craft Creamery in Bonifay, supplying the sumptuous ice cream that is available in the cooler. Gluten free pizzas, bagels, and breads from Udi are on hand, as Nickerson says, "Our customers asked and we provided."
To make those exquisite meals even more complete, over seventy-five fine wine labels are carried at CK's Feed & Supply, with favorites like Orin Swift, Silver Oak, Pahlmeyer, Merry Edwards, and my ultimate, Bandol to name a few. Popular craft beers include but are not limited to, Grayton Beer, Goose Island, and Southern Tier. CK's Feed & Supply speaks to the weekend chef at the beach. The one who wants to drop their bags and head straight to sunset with champagne in hand-not having to worry about provisions. Nickerson says, "We have the half & half, cinnamon rolls, and everything else a visitor needs!
The goal is simple- to make people happy with our restaurants and retail store experience." CK's Feed & Supply is very focused on their food, sourcing local vendors, and improving menus along with the customer's experience. Nickerson says, "We think food and entertaining is the thread of life- the basis for the precious time we spend with family and friends. Nurture the life you love."
CK's Feed & Supply is located at 31 Main Street in Rosemary Beach Florida off County Highway 30A. Hours of operation are 10 a.m. to 6 p.m., and they can be reached by phone at 850-598-0908. For more information, visit their website at www.cowgirlkitchen.com.
Susan Benton is the owner of 30AEATS.com where she shares her passion for food and travel, and her commitment to promoting local farmers, fisherman, chefs, artisans and restaurants along the Gulf Coast.