I have always loved cheese. Most people that know me personally know that fact. When I began my twitter feed, I was not yet 30A EATS, and I called myself @fromagechick, as I was looking for a specific hard-to-find cheese, and was connecting with all of the creameries that I could via social media. Please not, I am now @Eater30A on twitter!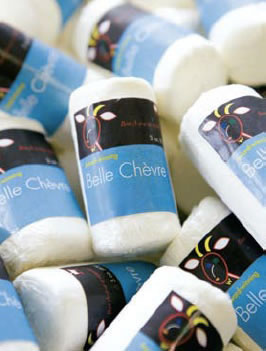 I am fascinated by cheese makers, specifically those in the South. I'm always crushing on Sweet Home Farms in Elberta, Alabama, Sweet Grass Dairy in Thomasville , Georgia, and have taken a mozzarella cheese making class at Studio b the beach on 30A where I live, with Paula Lambert of The Mozzarella Company, and had a blast! I began eating Belle Chevre from Elkmont, Alabama when I located the cheese at my local grocery stores, Modica Market in Seaside, and For The Health of It, in Blue Mountain Beach.
On one of my many visits to Alabama-years ago, I was passing through Elkmont with my husband, and told him we had to stop, as I knew the award-winning Belle Chevre goat cheese was made in the town. After an arduous search we found Belle Chevre, and met the owner Liz Parnell, who was so inviting and gave us a tour of the very quaint fromagerie.
Tasia Malakasis's, who during that time was vice president of global product management and marketing for a high-tech software startup, decided to switch gears in her career of more than a decade on the professional fast track, and enrolled at the Culinary Institute of America in New York. While visiting a Dean & Deluca store in Manhattan, she picked up some goat cheese, and was stunned to learn that the producer, Belle Chevre, was located in her home state, Alabama. She contacted then owner and founder Liz Parnell, and asked her to teach her the art of fine cheesemaking. She returned to Alabama to follow her true passion for food, to become an apprentice cheesemaker and, acquired Belle Chevre 6 months later in 2007.
Although making goat cheese may seem worlds away from the fast-paced life of marketing high-tech software, the similarity is in Malakasis' passion for what she does. Belle Chevre embodies her love of handcrafted, artisan food and the Southern region where it is produced. Now, as owner and president of Belle Chevre, Malakasis provides the strategic vision and leadership required to ensure that the 30-year-old company continues to evolve as one of the country's most acclaimed artisan creameries.
I'm excited to announce that I have been asked to review Belle Chevre's new cookbook,  Tasia's Table: Cooking with the Artisan Cheesemaker. Tasia's Table is an impressive cookbook filled with mouthwatering photos and delectable recipes. Tasia demystifies cooking with artisan cheese and shares her passion and philosophy on food with home cooks across the country. She gives an inviting glimpse into diverse, rich, and rustic culinary traditions that readers can embrace in their own kitchens. With recipes ranging from Three Cheese Grilled Cheese with a little Soul , Goat Cheese Frittatas and Goat Cheese Ice cream to Saganaki, and Buttermilk Biscuits. It is a cookbook that marks the culmination of the meals Tasia enjoyed with her Southern grandmother, her Greek family, and hundreds of Sunday Suppers spent around a big table with great food and even better friends.
I chose to make the Creamy Tomato Soup paired with one of my favorite Sandwiches, a Croque Monsieur.
Tomato Soup Recipe:
Ingredients:
Creamy Tomato Soup
There is nothing better than tomato soup—especially when it is accompanied by a grilled cheese sandwich like the croque monsieur! This soup is also amazingly easy to whip up. Some yummy toppings to use as garnish are goat cheese crumbles or, my other favorite, a little pesto swirled on top.
Serves 4
2 1⁄2 tablespoons butter
1 small onion, chopped
1 celery rib, chopped
1 1⁄2 teaspoons dried oregano
2 tablespoons flour
2 (15-ounce) cans diced tomatoes, puréed
Pinch of baking soda
2 1⁄2 cups chicken stock, or vegetable stock
3⁄4 cup half-and-half
Kosher salt and pepper
Preparation:
Melt the butter in a soup pot over medium heat. Add the onion, celery, and oregano; cook, stirring occasionally, until the onion is soft, about 5 minutes. Stir in the flour, then add the tomatoes and stock. Bring to a boil, lower the heat, and simmer, partially covered, for 20 minutes. Let cool briefly, then purée with an emulsion blender if you have one; if not 15 transfer to a blender, and purée until smooth.
Return the soup to the pot if using a blender, add 16 the half-and-half, and season with salt and pepper.
Croque Monsieur:
Ingredients:
Belle Chèvre's Croque-Monsieurs
Serves 4
3 1⁄2 ounces (1⁄2 cup) soft mild Belle Chèvre goat cheese, room temperature
4 ounces thinly sliced Black Forest ham
4 tablespoons olive oil
8 1⁄3-inch-thick slices of French bread, cut on the diagonal so that each slice is about 3 inches long
Preparation:
In a small bowl, cream together the goat cheese and 1 tablespoon of oil. Spread 4 slices of bread with the mixture and top them with the remaining slices, pressing the sandwiches lightly. In a small nonstick skillet, heat 1 1⁄2 tablespoons of the remaining oil over moderately high heat until it is hot but not smoking. Sauté 2 of the sandwiches for 11⁄2 minutes on each side, or until they are golden, and transfer them to a plate. Sauté the remaining 2 sandwiches in the remaining 1 1⁄2 tablespoons oil in the same manner.
Note: When Making a Croque Monsieur or Madame I follow the above recipe, then transfer sandwiches to a small baking sheet. Spoon sauce (my recipe below) over sandwiches, then divide 1/4 cup grated Gruyère cheese to sprinkle over sandwiches. Broil until cheese begins to brown, about 2 minutes.top with poached or sunny-side up egg for Madame.
Sauce Reciepe:
Ingredients:
2 tablespoons butter
2 tablespoons all purpose flour
1 cup whole milk
Pinch of ground nutmeg
1 bay leaf
Preparation:
Melt 2 tablespoons butter in small saucepan over medium heat. Add flour and stir 1 minute. Gradually whisk in milk. Add nutmeg and bay leaf. Increase heat to medium-high and boil until sauce thickens, whisking constantly, about 2 minutes. Season with salt and pepper
Be sure to check out these other fabulous bloggers, who are also participating in the Tasia's Table potluck:
Tasia's Table Cookbook Giveaway! (ENDED)
How to  Enter: 
Leave a comment below answering this question: What is your favorite way to enjoy Goat Cheese?
Extra chances to win: Leave a SEPARATE comment letting me know you completed the tasks to win below:
Like 30A EATS Facebook
Follow 30A EATS -@fromagechick on Twitter and tweet: @fromagechick and @BelleChevre  I entered Tasia's Table Cookbook Giveaway! #tasiastable.
Subscribe to 30A EATS (top right home page) and leave your email so I can contact you when you win!
The Rules:
Entries must be submitted by midnight (CST time) on Tuesday, October 9th.
A winner will be picked at random (using random.org) and will be announced on Wednesday, October 10th.
Please make sure you include your name and email address so that I can contact you if you win!
Contest is open to those with a US mailing address only.
Winner will have 48 hours to respond before another winner is chosen.
Good Luck and thanks for following 30A EATS!