When most people living outside of Florida think about The Sunshine State, they think of Miami, Orlando, and Disney World.  I happen to live on the polar opposite end of the state in Northwest Florida on Scenic Highway 30-A in Santa Rosa Beach. SRB is generally located between "The Forgotten Coast" of Apalachicola and "Lower Alabama" AKA Gulf Shores.
It's difficult to describe to those who have never been to South Walton, but the Gulf is a clear Emerald Green, the beaches are packed with white sand, the fishing is fantastic, and the people are quite eclectic. This unique barrier island is made up of small communities and is home to the freshest and most delectable Gulf Coast Seafood. My parents settled here more than twenty years ago, and I grew up visting the area, moving to to South Walton just in time for both of my (now college) children to start school, so The Emerald Coast has become home to this Navy Brat.
Many of my friends families were early-settlers in South Walton when not much was around but the white sand beaches and the Gulf of Mexico.
In my years living in Walton County, I have seen the building of new schools, a four-lane highway, a hospital, medical clinics, resorts, shops, multi-million dollar homes, grocery stores, and an outdoor mall with theatre and more to come. Then came Britney… you can just hear my (at the time) middle-school daughter  screeching, "Britney Spears bought a house down the street!" Then came (now former) Sheryl & Lance, lots of Nashville stars, really cool celebrities, and …Emeril!
Yes, Emeril has also has fallen in big like with South Walton, and is currently working on a series promoting the state of Florida in a new show on the Cooking Channel which will air in January called, "Emeril's Florida."   He was out and about less than a mile from my Pensacola home recently, visiting a few of my favorite eateries such as Jackson's Steakhouse, The Fish House, Joe Patti's Seafood, and The Original McGuire's.
I happen to be in town and had to sit on my hands not to interrupt! I mean, I was selected as a blogger to promote his new cookbook Kicked-Up Sandwiches taking place during this time period, so a spontaneous interview would be appropriate, right? Hubs said," not."
Though it appears to be stalking…Emeril and I both headed back over to South Walton, me to go home and him to visit with the incredible chefs at Stinky's Fish Camp and Bud & Alley's on 30-A. Emeril then cooked on the dock of the bay at Sandestin's Baytowne Wharf for Florida Governor Rick Scott. The man was cooking and filming up a storm!
While Emeril was cooking and filming, he was also tweeting the #SeriousSandwich bloggers, posting our #SeriousSandwiches to his Facebook, and flying to the set of Good Morning America to meet his two daughters (Jilly & Jess) who were also debuting their new cookbook The Gluten Free Table. The man does not stop!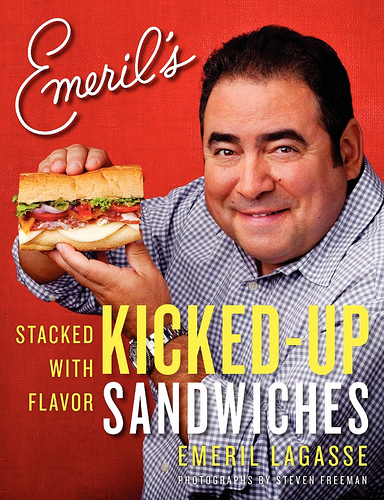 I have had a blast during the month of October working with Emeril, the 21 other bloggers, and Morrow Cooks on the Kicked-up Sandwich-#SeriousSandwich Cookalong, and today share my last Sandwich, the Curried Chicken Salad on Pumpernickel. Though Emeril does give the bread recipe in the book, I ran short on time, Publix was out of Pumpernickel, and I bought some lovely fresh croissants instead. The Chicken Salad recipe is perfectly sweet and savory. This moist sandwich is delectable – just as suitable for a business luncheon as it would be for a bridal shower, and is an easy make-ahead choice. It is as attractive as it is delicious!
Note: I added quite a bit of curry, though it does not appear as dark as Emeril's.
Curried Chicken Sandwich
Ingredients:
2 1/4 pounds boneless, skinless chicken breasts
2 1/2 cups chicken stock or packaged low-sodium chicken broth
1/2 cup dry white wine
5 sprigs fresh cilantro, plus 2 tablespoons finely chopped fresh cilantro leaves
1/4 cup freshly squeezed lemon juice
2 cloves garlic, smashed
1 teaspoon black peppercorns
1 1/2 teaspoons salt, plus more for seasoning
4 green onions: 2 smashed and 2 finely chopped
2 ribs celery, finely chopped
1 tablespoon curry powder
1/4 teaspoon cayenne pepper
1/4 cup golden raisins
2 tablespoons dried currants
1 cup Major Grey's Chutney, or to taste
Freshly ground black pepper, for seasoning
3 ounces baby spinach
Preparation:
1. Combine the chicken, stock, wine, cilantro sprigs, 2 tablespoons of the lemon juice, the garlic, peppercorns, 1 teaspoon of the salt, and the smashed green onions in a medium saucepan and bring to a gentle boil. Reduce the heat to a bare simmer and cook for 10 minutes. Remove from the heat and allow the chicken to cool in the poaching liquid for 45 minutes. Then remove the chicken from the liquid and set it aside until completely cool. Strain the poaching liquid and reserve it for another purpose if desired. Discard the solids.
2. Cut the chicken into small dice. In a large bowl, combine the chicken, chopped cilantro, remaining 2 tablespoons lemon juice, remaining 1/2 teaspoon salt, chopped green onions, celery, mayonnaise, curry powder, cayenne, golden raisins, and currants, and stir to blend well. Taste, and adjust the seasoning if necessary. Chill the chicken salad, covered, for at least 2 hours and up to several days in advance.
3. To assemble: Spread one side of each piece of bread with about 1 tablespoon of the chutney. Place about 1/2 cup of the chicken salad over each of 8 slices. Season lightly with salt and pepper. Divide the spinach among the sandwiches, and top with the remaining 8 slices of bread. Halve the sandwiches and serve immediately, or wrap them in plastic wrap and store them up to overnight, refrigerated, until ready to serve.
Yield: 8 sandwiches