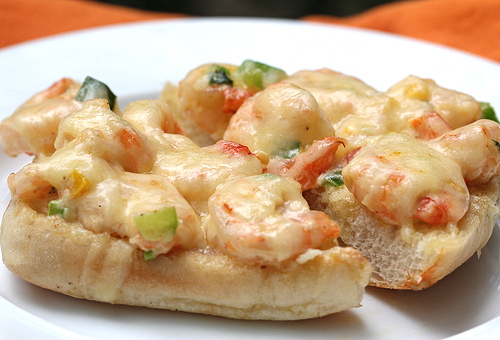 In the South we love Shrimp Salad. Fresh Shrimp plucked from Coastal waters, boiled in a spicy broth, chilled, peeled, and whipped with herbs and mayonaise; it is a staple in most households, and is favored at potlucks. Served on toast points, resting on a bed of lettuce, or in a big pretty glass bowl topped with boiled eggs, Chilled Shrimp Salad makes the perfect meal anytime of day.
When I am in Pensacola, as I was this weekend (so was Emeril filming his upcoming Cooking Channel segment called "Emeril's Florida"), I buy my shrimp form Joe Patti's or Maria's Seafood. Whether in Destin, Santa Rosa Beach, 30-A, New Orleans, or even traveling to Venice, Italy, I always try to buy local.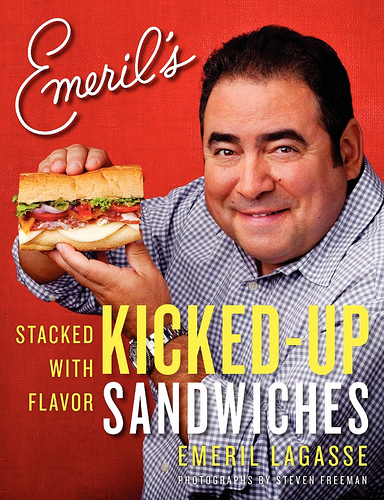 In Kicked-Up Sandwiches, Emeril Lagasse writes about the classic shrimp salad and his fondness for New Orleans and Gulf Coast Seafood. He takes a tip from the timeless Tuna Melt, and decides to add Gruyere Cheese, melting it over the top of his sandwich creation. BAM! A Shrimp Melt is born, and that's a #SeriousSandwich!
Though I can't share the above recipe at this time, I can share a very similar Shrimp Salad of his, and can tell you that:
1. Today is the last day to enter 30A EATS Kicked-Up Sandwich Cookbook Giveaway, so  make sure to leave a comment here by midnight Central time.
2. Follow the other bloggers in the cookalong to see what's shakin' in their kitchens, as they have cookbooks to give away too!
3. If you just can't stand it anymore, and want to purchase your pre-published copy of Kicked-Up Sandwiches by Emeril, go here now.