For the third year in a row, Panama City Beach's Firefly Restaurant has received Florida Trend magazine's prestigious Golden Spoon Award. The acclaimed restaurant, which is located in the Shoppes at Edgewater, a property managed by The Resort Collection of Panama City Beach, was given the award in recognition of their exquisite cuisine, culinary expertise, service and atmosphere.
Owner Dave Trappier says, "Receiving this award has always meant a lot for us, and as third-time recipients, we couldn't be more excited. It thrills me for Firefly to be recognized for the excellence and creativity that we all strive for, and it is an honor to be chosen again."
The restaurant, known for freshly caught fish, local produce, succulent beef and fowl, artisan pizzas, and excellent sushi, is the perfect place for an intimate dining experience or a large family dinner. Most recently, Firefly's executive chef Paul Stellato served Team USA's athletes, their families and dignitaries across the pond at the 2012 Summer Olympics through the BP-sponsored "Spirit of the Gulf" program.
The restaurant has received a number of awards and honors in the past and is proud to obtain another Golden Spoon Award from Florida Trend.To further expand on their award-winning culinary offerings, Firefly has started construction on a brand-new sushi bar.Trappier says, "Sushi continues to grow in popularity, and we see more and more of our guests heading down the healthier path. Firefly's sushi has always been prepared in the kitchen, but true sushi aficionados want to see the artistry of the sushi chef and interact with him.There is a special relationship between a trusted sushi chef and his loyal customers. They are more willing to try to experiment with new fish and get out of their comfort zone. When that confidence is built, it is fun to see."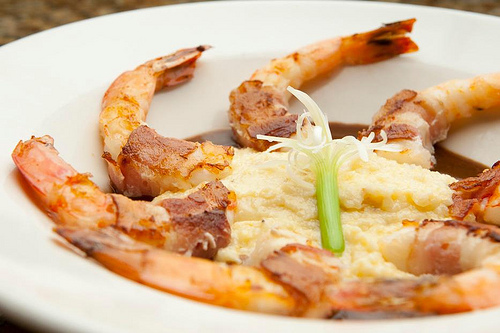 The restaurant expansion will also include the addition of four private dining rooms. "The new private dining rooms will give us much more versatility to hold our own special events like wine tastings, wine dinners and cooking classes," Trepanier said.The new sushi bar is anticipated to open in February. To reserve a table at Firefly or receive more information, please call 850.249.3359 (FFLY) or visit their website.
About Firefly Restaurant:
Firefly Restaurant, owned by Dave Trepanier, is located at 535 Richard Jackson Boulevard in Panama City Beach across from Edgewater Beach & Golf Resort in the Shoppes at Edgewater, part of the Resort Collection of Panama City Beach. The family-friendly Mediterranean-style bistro is known for its fresh seafood and sushi, homemade pasta and pizzas, and succulent beef and fowl, as well as its wine list and martini menu. As an alternative to the main dining room, the Firefly Bar presents all menu options plus a full selection of beer and wine, along with top-shelf vodkas, bourbons and rare scotch. The Firefly Wine Lockers afford guests the privilege of choosing fine wines and storing them onsite in a private space in our cellar. The 535 Library Lounge is an inviting library for relaxing and socializing. Private dining rooms are available and can accommodate parties of eight to 50. Firefly is the recipient of multiple Golden Spoon Awards from Florida Trend Magazine and has earned Wine Spectator's Award of Excellence five times for their 1,800-bottle cellar. Firefly was also placed on Urbanspoon's list of "America's Top 250 High-End Restaurants" in 2012. The restaurant's daily specials and current events can be found online at http://www.fireflypcb.com, or by calling 850.249.3359.