An Approach to Improvisation on Guitar and Mandolin
Thursday, April 18, 2013
Tim May and Dan Miller (co-authors of the popular eight volume Flatpicking Essentials Guitar Course and the instructional DVD "An Approach to Improvisation"), will conduct a hands-on, all-level Guitar and Mandolin Improvisation Workshop to be held in Downtown Pensacola, Thursday April 18, 2013 from 6-9pm.
The idea of learning how to improvise can be confusing and overwhelming.  Tim May and Dan Miller's workshop will prove to you that it is much easier to improvise than you think, and now is the time to start learning, even if you are a beginner to guitar or mandolin!  In the workshop Tim and Dan teach an approach to improvisation that will put you on the road to improvising a solo on a song in a very short amount of time.  The method that they teach and the skills that you will learn in this workshop will help really demystify improvisation.  In fact, no matter what your current ability level, you will be improvising by the end of this workshop, even on a song that you have never heard before!  If you are already an accomplished improvisational player this workshop can help take your abilities to the next level.  If you are new to improvisation, this workshop will give you confidence in taking that big step to becoming an improvisational player.  Each student will be given several opportunities to play for, and get direct feedback from, the instructors.
About the Instructors
Tim May
Tim May was voted "The Best Instrumentalist in Nashville" in 2012 in the Nashville Scene's readers poll. He's humorous, humble, easy-going, and fun to be around. He's also a very accomplished guitar player, singer, and songwriter—and one of Nashville's acoustic guitar "go-to guys".  For fifteen years Tim focused on his job as the guitar player for the Nashville-based bluegrass band Crucial Smith. When that band broke up in 2002 the job offers started pouring in. Recent highlights include touring with Patty Loveless, touring with Eddie Rabbit, touring Japan with John Cowan, playing on the all-star Rounder project Moody Bluegrass (and performing with the Moody Blues band at the Ryman Auditorium), performing on the Grand Ole Opry dozens of times with Mike Snider, and recording a bluegrass gospel project with Charlie Daniels. Additionally, FGM Records has released Tim"s solo CD "Find My Way Back" and Tim is also featured in a new FGM Records concert DVD, "Live in Kansas City," with Brad Davis and Cody Kilby. While there   are plenty of great guitar pickers in Nashville, Tim May adds great songwriting and singing to his list of many talents, which include being equally adept at resonator guitar,  banjo, and mandolin. When he is not on the road or in the recording studio Tim works building and repairing stringed instruments.  He is also the co-author of the eight-volume Flatpicking Essentials book/CD series and co-instructor on three instructional DVDs for guitar.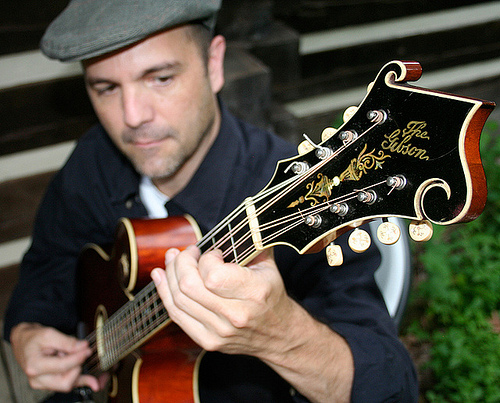 Dan Miller
Dan Miller has been the publisher and editor of Flatpicking Guitar Magazine since 1996. He has also co-authored a number of flatpicking books, including: "The Bluegrass Guitar Style of Charles Sawtelle" with Charles Sawtelle, "Flatpicking the Blues" with Brad Davis, "The Guitar Player's Guide to Developing Speed, Accuracy and Tone" with Brad Davis, and the Eight Volume flatpicking course "Flatpicking Essentials" with Tim May. Dan Miller and Tim May have also produced three instructional DVDs for guitar players:  "Improving Speed, Accuracy, and Tone," "Creating Solos," and "An Approach to Improvisation."  Tim May and Dan Miller also have been performing in a trio with their good friend Brad Davis (Davis Miller May) since 2005 and have been performing together as a duo since 2007.
Dan Miller and Tim May Workshop
Improvisation for Guitar and Mandolin
Time:  6 to 9 pm
Cost: $40.00
Location:
Southern Orthopaedics & Sports Medicine Offices
Baptist Towers
1717 N. E Street, Ste 534
Pensacola FL 32501
Email: dan@flatpick.com
Call:(800)413-8296 or (800)413-8296 to register
For last minute registration, more information in Pensacola, or for directions
Call Phil Benton (850)748-3523