I love spicy food, and was really excited when Virtual Potluck was approached to work with The Savory Spice Shop. All twelve bloggers hopped on board for this event, and were each given spices to work with.
Savory Spice Shop, located in Denver Colorado, was generous enough to supply each blogger with a gift box to give away, which means there are twelve different gift boxes up for grabs!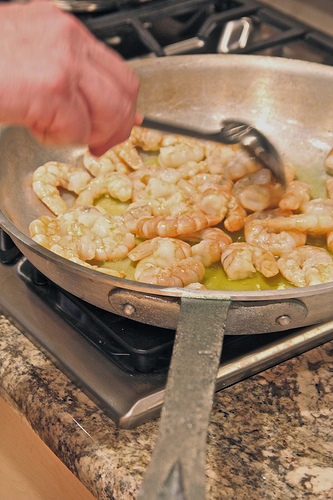 The boxes are different because the Savory Spice Store is divided into sections. Yes, they have that many Cooking Spices! Each Virtual Potluck member worked with a specific section, and 30AEATS took on BBQ Blends.
Visit Cookistry to see what the other bloggers are doing with their spices, and to enter the giveaways!
I have been down on my luck recently in the health and wellness department, so my sweet husband generously has been taking on the cooking for me this week. He bought a pork loin, New York strip steaks, and Gulf shrimp to grill, and for us to test the spices.
In this post I am sharing our Grilled Gulf Shrimp with Vine Ripe Tomatoes. Boy, were they delicious. I was eating them like popcorn before he could get them on the skewers! We like to pan saute the shrimp in good olive oil, next add spices, and follow with a quick flip on the grill for added flavor. A local chef taught me this technique which he uses for his fish taco's; the shrimp get all of the grill flavor without becoming rubbery and dried out.
Stay tuned as 30A EATS will be grilling up a few more dishes and will add the photos here!
Now for the Giveaway!
30A EATS is giving away the Chops & Bones gift set which contains Long's Peak Pork Chop Spice, Park Hill Maple and Spice Pepper, Sweet Mama Kansas City Style Rub, and Platte River Rib Rub.
Visit Savory Spice Shop's  Facebook page and click the Virtual Potluck link.
Choose a product from the BBQ section and come back here to 30A EATS and comment on what dish you'd make with that spice or product.
For Extra Entries:
One (1) winner will be chosen randomly. Contest ends April 21st, 2012 at midnight Central time, and the prize will be shipped by Savory Spice Shop. The winner will be announced on Sunday, April 22nd.