This is my 6th recipe post for #SeriousSandwich, a promotion for Emeril Lagasse's new cookbook Kicked-Up Sandwiches. As a side to a terrific sandwich, like those made in the last three weeks by the 22 bloggers in the promotion, you might consider Emeril's Classic Cole-Slaw (page 66).
I made a batch to go with my Roast Beef "Debris" Po' Boy shown here.
Use this tasty cole-slaw on BBQ Sliders like my Virtual Potluck friend Matt did at  Thyme In Our Kitchen (above photo), on hotdogs, or a variety of tacos (below). It adds a fresh element to any meal.
Don't forget to follow along on twitter using the hashtag #SeriousSandwich for more great recipes & tips, and if you are a lover of cookbooks like me, follow The Secret Ingredient Blog  from Morrow Books.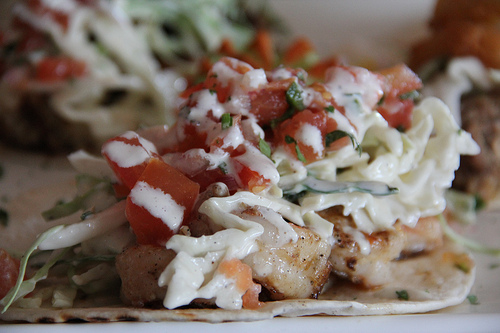 Kicked-Up Cole-Slaw
Recipe: Emeril Lagasse Food Network
Ingredients:
3/4 cup mayonnaise
1/4 cup Dijon mustard
1/4 cup packed light brown sugar
3 tablespoons apple cider vinegar
2 tablespoons buttermilk
4 teaspoons celery seeds
1 teaspoon salt
1/4 teaspoon freshly ground black pepper
1/8 teaspoon cayenne
3 cups shredded green cabbage (about 1/2 head cabbage)
3 cups shredded red cabbage (about 1/2 head cabbage)
1 green bell pepper, finely diced
1 large carrot, peeled and shredded
1/2 cup grated yellow onion
1/4 cup minced fresh parsley
Preparation:
In a bowl, combine the mayonnaise, mustard, sugar, vinegar, buttermilk, celery seeds, salt, pepper, and cayenne, and whisk well to dissolve the sugar.In a large bowl, combine the remaining ingredients. Toss with the dressing until evenly coated. Adjust seasoning, to taste. Place in the refrigerator, covered, to chill slightly before serving.