Amanda Hesser and Merrill Stubbs had the genius idea to bring Food52 readers to the forefront by holding contests each week (52 to be exact) asking for recipe entries. They then read through all of the entries testing about ten percent, and after comparing tasting notes, the team distributed another ten percent of the recipes for their community to test.
Finally from the tested results, two finalists are chosen. Amanda and Merrill then cook their recipes, photograph the step-by-step process of making each, and post them to their site, Food52.
Readers voted for the winners, and after 52 weeks a cookbook was born. The Food52 cookbook is broken down into seasons, which makes for easier shopping at Farmers Market's and for the planning of family meals.
I decided to make a comfort meal tonight as the temps are dropping to freezing in the Florida Panhandle, and my son is not feeling too well.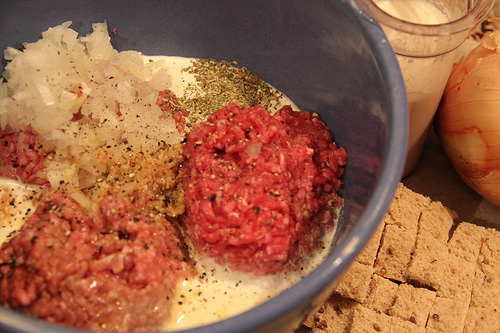 After much deliberation, I settled on the recipe for Mashed Potatoes with Caramelized Onions and Goat Cheese, and a second recipe, Meat Loaf with Blackberry Barbeque Sauce.  The aroma was wonderful and lured my teen from his room, where he proceeded to eat two helpings, suddenly feeling satisfied and on the mend.  The meat loaf was moist, juicy and full of flavor. Most of all it was easy to prepare. The meat loaf was submitted by Dax Phillips, and he suggests a "great appetizer and nice bottle of wine to loosen things up"as an entertaining tip. You can find him on his blog: Simple Comfort Food (www.simplecomfortfood.com).
The potatoes took a bit more work, and required a ricer, but were worth the effort. With half-and-half, butter, garlic, bay leaf and a dollop-or-four of goat cheese, the potatoes were creamy and decadent with a tangy hint. Caramelized onions are throughout the potatoes and on top. Sonali Ruder, a physician and cooking enthusiast from Manhattan submitted this recipe. Her food blog is The Foodie Physician (www.thefoodiephysician.com).
Meatloaf with Blackberry Barbque Sauce
Serves 6
Ingredients for the Meatloaf
1/2

pound ground beef

1/2

pound ground pork

1/2

pound ground veal

1/2

cup diced yellow onion

1/2

teaspoon dried basil

1/2

teaspoon kosher salt

1/2

teaspoon cracked black pepper

3

cloves of fresh garlic, finely chopped

1

tablespoon worcestershire sauce

1

egg, beaten

3/4

cup milk

3

pieces of white bread, crust removed, torn into small pieces
For the Blackberry Barbecue Sauce
2

small onions, peeled, and quartered

2

cloves of garlic, rough chop

2

cups blackberries, thawed (if using frozen)

1/2

cup light brown sugar

1

tablespoon ground ginger

1

teaspoon cayenne pepper

Generous pinch of salt

Generous pinch of black pepper
Making the Sauce: Add the above ingredients to a blender, and puree until nice and smooth. Add this to a small pot, and cook on medium to low heat for about 20 minutes. Stir, and remove from the heat. When you make the meatloaf, add the sauce to the top before baking, and spread on the plate before serving.
First preheat your oven to 350 degrees. In a large bowl, combine all of your ingredients, with the exception of the bbq sauce. Get in there, get dirty and greasy from the meat. Once combined, add to your bread/loaf pan which is typically 5×9. Shape into the pan, then add your sauce to the top, roughly a half cup. Place in the oven for nearly one hour and 25 minutes.
Once cooked, remove from the oven and let it cool for roughly five minutes. In the meantime, warm up more of the bbq sauce. Remove the loaf to a serving dish, and drizzle the sauce on the top. Serve with your favorite sides. I served mine with mashed potatoes. Trust me, this one is really delicious.
My twitter handle is now @Eater30A. The Giveaway has ended. The Mashed Potatoes with Caramelized Onions & Goat Cheese can be found on Food52 here.