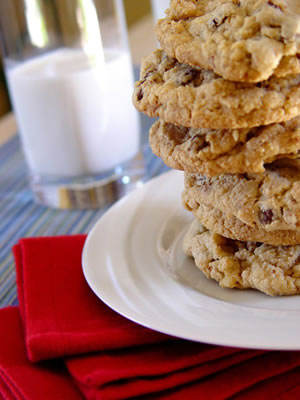 I am sure many remember the urban legend about the woman who was charged $250 for the recipe for Neiman Marcus's famous chocolate chip cookies. The woman thought she was paying $2.50 in addition to her salads on her charge, and was livid at being taken advantage of, so she shared the secret recipe with the world. The legend obviously untrue, yet still resurfacing today, has one redeeming value; the cookie recipe is really delicious!. Ironically, Neiman Marcus didn't have a "famous" cookie but created a worthy one in response to the legend. They now give away their recipe for free to whomever asks for it.
Ingredients:
1 pound unsalted butter, room temperature
2 cups sugar
2 cups light brown sugar, packed
4 large eggs
2 teaspoons pure vanilla extract
5 cups oatmeal
4 cups all-purpose flour
1 teaspoon kosher salt
2 teaspoons baking powder
2 teaspoons baking soda
24 ounces semi-sweet chocolate chips
1 Hershey bar, grated
3 cups walnuts, chopped
Preparation:
Preheat the oven to 375 degrees.
In an electric mixer fitted with a paddle attachment, cream together the butter and both sugars. Add the eggs and the vanilla, mix well to incorporate. Whisk the oatmeal, flour, salt, baking powder and baking soda together in a medium bowl and combine with the wet ingredients. Mix on low speed to form the dough. Fold in the chocolate chips, grated chocolate and walnuts by hand, so as not to break them up or melt the chocolate with the heat of the mixer. It takes a bit of elbow grease, but trust me, it is well worth the effort!
Roll the dough into "golf ball" sized rounds and place 2 inches apart on a parchment lined sheet pan. Bake for 10 to 14 minutes until the top of the cookie cracks and turns golden brown. The key is to slightly "under bake" them so the cookie stays soft and chewy. Cool completely, (if you have that kind of willpower) on a cooling rack and store in an airtight container.