Remember a few days ago, when I was having that reflective moment on the beach, writing about Cajun Shrimp Stew, and thinking about the fall? Well, ditch that, because the temps are back in the 90's, the sun is out, and the Gulf of Mexico is shimmering!
I am still trying to keep my fall spirit alive, but I am not ready to set out a pumpkin just yet. I have seen a few, mostly from our Snowbirds that visit the area to get away from their colder climates. They will learn the hard way like I did, that the pumpkins sitting in the warm sun will deflate, stink, and will have to be replaced before Halloween.
Speaking of heat, Grillades & Grits caught my eye to make this week.
Grillades & Grits is a Creole Classic, and a favorite dish my family enjoys. Traditionally, this dish is served at breakfast or brunch and can vary to include beef, veal or pork.  This is a rich sumptuous dish that is best if it is allowed to cook down and really tenderize the meat.
The grits are really important, and using instant will just disappoint. You can buy stone ground grits in the organic section of your grocery store, and possibly local stone ground at your farmers market. They sell stone ground grits and corn meal at Bailey's Market in Pensacola.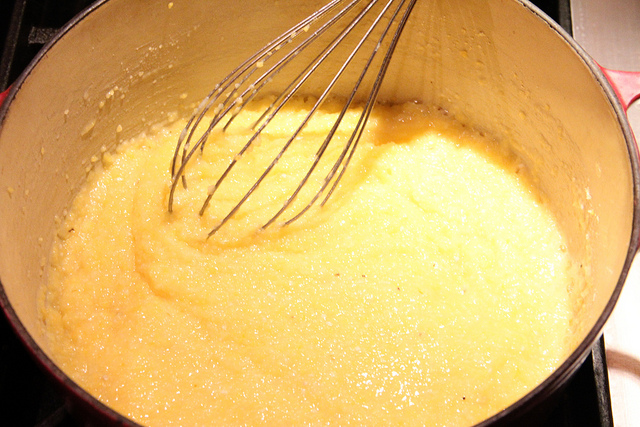 The meat has to be pounded down paper thin at about 1/8 inch, and then it is dredged in the flour and seasonings, and cooked in oil. It is to be transferred to a pan, but I always drain on a paper towel too. The recipe called for Italian seasonings, so I used my Emeril's Italian Essence and Bayou Blast for a kick.
Veggies are cooked next, and then the meat is added back with tomato, red wine and beef broth. The meat and sauce is served over the stone ground grits, and wow…this dish is one of the most delectable meals you can have for a family Sunday supper.
Recipe:
Grillades & Grits
2 pounds beef or veal round, 1/2 inch thick
3 tablespoons vegetable oil
Salt and freshly ground black pepper
All-purpose flour
1 large onion, thinly sliced
4 garlic cloves, smashed & minced
1 small green bell pepper, finely chopped
1 cup chopped tomatoes
1 tablespoon chopped fresh parsley leaves
1/8 teaspoon dried thyme
1 1/2 cups beef stock
Tabasco or other pepper sauce to taste
4 cups hot cooked grits
Preparation:
Cut the meat into 3-inch squares. Season with salt and pepper, then dredge in the flour and shake off excess. Heat 2 tablespoons of the cooking oil in a heavy skillet, brown the meat lightly and drain on paper towels.
Make a roux in the skillet with 2 tablespoons of flour and the remaining oil, browning until it's a rich dark milk to dark chocolate color. Do not burn. Add all other ingredients (except the grits) to the roux and simmer until the mixture thickens, about 20 minutes. Return the meat to the pan, cover the skillet and cook until tender, about 1 hour. Stir often so that it won't stick. Serve the grillades and sauce over hot grits.
Note: To make the dish more decadent, add one cup of Gouda cheese to the grits.