Through Honest Cooking I have had the opportunity to work on several campaigns, and this time I'm focusing on Prosciutto di Parma for the  Pass the Prosciutto-Gluten Free Holiday Entertaining campaign.  They did not have to twist my arm for this one! The Consorzio del Prosciutto di Parma (the organization that certifies this ham from the hills around Parma, Italy and gives the brand of ham its quality seal of approval) is celebrating 50 years. However, their tradition of making this  particular ham is more than 1,000 years old.With its full-bodied flavor and silky texture, Parma Ham is a world-class specialty food. The ham is gluten-free, hormone free, all natural and has no additives. What could be better?
Prosciutto is so delicious on its own, terrific when wrapped around fresh melon, most excellent as a pizza topping, and can step up a cheese platter for holiday entertaining. Sauté finely diced Parma Ham with onions, carrots, celery and herbs to make a soffritto, or use as a flavor base for sauces and many other dishes. My family loves Parma ham and I cook with it often finding it so very versatile as seen in the dishes below. (Photo copyright 30AEATS.com)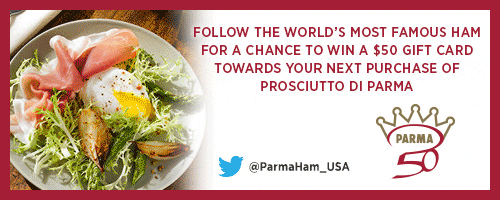 Today I am sharing a non-gluten free recipe, as I had family in town this week for the holiday and we wanted panini's. My sister accidentally booked her flights the week prior to Thanksgiving. They has such a smooth trip, hassle-free at the airport, that we joked we just might start celebrating Thanksgiving a week early from now on! You can make this recipe with gluten free bread, but since my sister loves to bake, we let her go to town on whipping a loaf up. I will share her easy peasy bread recipe in a post tomorrow. Until then…
Parma Ham, Fig & Gruyère Panini
Makes 6
Ingredients:
1 Country Bread Loaf
1/3 cup prepared fig jam
3 tablespoons whole grain mustard
1 cup (4 ounces) shredded Gruyère cheese
1/2 small red onion, thinly sliced
1/8  teaspoon salt1/8 teaspoon ground pepper
1 tablespoon chopped fresh thyme
4 ounces thinly sliced Parma Ham
red & green leaf lettuce optional
Preparation:
Cut the loaf of bread lengthwise into six long, oval slices, each between ¼ and ½ inch thick. Spread one side of three slices with the fig jam. Spread the mustard on the other three slices; then layer the cheese over the mustard.
Coat a medium nonstick skillet with cooking spray and warm it over medium heat. Add the onion, salt, and pepper. Cover the skillet and cook the onion until it is very tender, 6 to 8 minutes, stirring now and then. Stir in the thyme.
Arrange the onion over the cheese; then layer on the ham. Top with the jam-spread slices of bread. Coat the sandwiches all over with cooking spray.
Warm a grill pan or panini press to medium-high heat. Place the sandwiches, in separate batches if necessary, on the hot grill pan and compress them slightly with a heavy weight, such as a cast-iron pan or foil-wrapped brick. If using a panini press, push the lid down on the sandwiches. Cook them until nicely browned and the cheese melts, 3 to 5 minutes per side on the grill pan and 6 to 8 minutes without turning in the panini press. Cut each sandwich in half on a diagonal and serve hot.
This Contest Has Ended:
Entry: Follow Parma Ham on Twitter for a chance to win $50 worth of the world's most famous ham. Click on the banner above to participate. This post is a collaboration between 30AEATS.com and Parma Ham.