Redd Vizard is the owner of Redd's Fueling Station in Blue Mountain Beach and is a singing and slinging sensation on 30A. Redd's Fueling Station is situated just behind Sally's By the Sea Store and since opening in 2013 has been bringing in crowds of locals and visitors alike, all in hopes of catching Redd hot in the act!
Helen "Redd" is a professional singer and T.V. personality who has appeared on 30a TV, New Years Eve celebrations on CNN, QTV News and spent a week as the "Weather Wannabe Queen" on the Weather Channel.  She has also performed in Las Vegas, and since early childhood longed for a place of her own to showcase not only her vocal skills, but her love of food as well.
Redd's Fueling Station  features a great selection of made-from-scratch menu items with fan favorites that include Redd's Hot and Saucy Salsa and Tortilla Chips, High Octane Nachos, Spicy Guacamole, Jalapeno Popper Burger, Shrimp Salad and Devils on Horseback: a bacon wrapped, pitted date stuffed with garlic, then baked until golden brown.
The newest addition to Redd's fueling Station, is Redd's own line of house crafted hot sauce. Redd's Hot & Saucy Hot Sauce has been a sell-out and patrons are craving its unique blend of flavors. Redd says, "We have been working on our hot sauce recipe for two years, and then someone posted on Facebook that I was hot and saucy, so we jumped in and decided to do it!"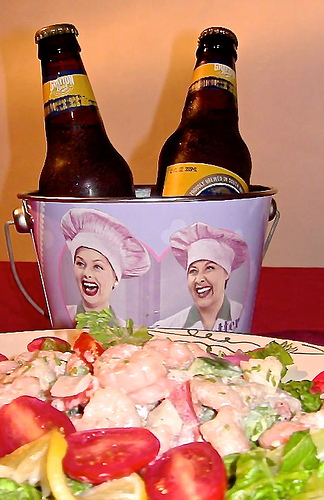 Made from a secret combination of Key West lime juice, mixed fresh peppers and carrot juice, the recipe is 100% natural and contains no preservatives or vinegar.  Redd's Hot & Saucy is extremely versatile and can be used on or with a myriad of food items, but is especially terrific on ice-cold local oysters.
No stranger to the kitchen, and always playing with new concoctions like her famed guacamole, Redd says, "The creation of this sauce goes right along with the way I cook. I like to keep everyone guessing!"
Plans are currently underway for a sweet sauce,  a spicier version and a chunky variety. Redd's Hot & Saucy  Hot Sauce is available at Redd's fueling Station, through the website, and and wherever she performs: Marie's Bistro in Blue Mountain Beach, Sally's By The Sea Store, Enzo's, and Nick's on the Beach. The cost for Redd's Hot Sauce is  $7.99, and Redd will ship it to to your door for an additional $5.00 charge.
Redd's Fueling Station will celebrate its 1 Year Anniversary on Friday, June 20 with live entertainment and food and drink specials. Redd's Fueling Staion is open Monday through Wednesday 5-10 pm. Redd takes the stage every Tuesday, Thursday and Friday evening at 6:30 pm,  so plan to make a reservation to hold a great table. Open mic night is every Wednesday, and local musicians are featured on Saturday evenings, so be sure to check Redd's Fueling Station on Facebook  and see their profile page  and calendar of events on GulfCoastRestaurants.com.
Redd's Fueling Station is located at 2320 West County Highway 30A in Blue Mountain Beach, Fl 32459. Call (850) 325-0252 for more information.