When I think about sourdough bread, I think of San Francisco, my travels there, and eating warm clam chowder out of a bread bowl at Fisherman's Wharf.
King Arthur Flour along with Red Star Yeast have generously provided me with a HUGE giveaway!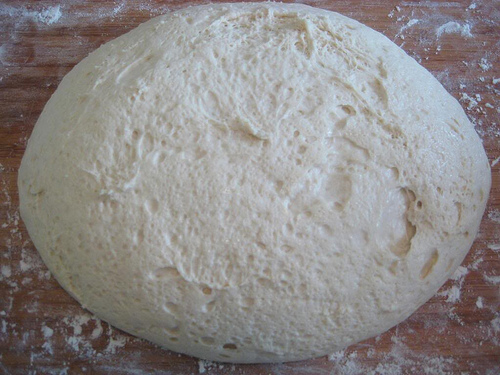 I love the smell of sour dough bread baking, and already have the butter ready at room temperature.
Did you know that  King Arthur Flour is a socially responsible company, they provide employee-ownership, and they share information about their farmers who grow the wheat? I really like that.
Recipe:
Sourdough Bread
Makes 2 loaves
Ingredients:
1 cup "fed" sourdough starter
1 1/2 cups lukewarm water
2 teaspoons Red Star Yeast
1 tablespoon sugar
2 1/2 teaspoons salt
5 cups all purpose flour
Preparation:
1) Combine all of the ingredients, kneading to form a smooth dough.
2) Allow the dough to rise, in a covered bowl, until it's doubled in size, about 90 minutes.
3) Gently divide the dough in half; it'll deflate somewhat.
4) Gently shape the dough into two oval loaves; or, for longer loaves, two 10″ to 11″ logs. Place the loaves on a lightly greased or parchment-lined baking sheet. Cover and let rise until very puffy, about 1 hour. Towards the end of the rising time, preheat the oven to 425°F.
5) Spray the loaves with lukewarm water.
6) Make two fairly deep diagonal slashes in each; a serrated bread knife, wielded firmly, works well here.
7) Bake the bread for 25 to 30 minutes, until it's a very deep golden brown. Remove it from the oven, and cool on a rack.
Note: Now that you have made two loaves, Eat one while it is hot with creamy butter, and use the other to make the Rustic Sourdough Spinach Strata below, to eat the following day!
Recipe:
Spinach Strata
Serves 12, or 6 if cutting recipe in half
Ingredients
12 whole Eggs
2-1/2 cups Half And Half
Salt and Ground Pepper, to taste
4 Tablespoons Minced Fresh Parsley
1 loaf Crusty Sourdough, Cut Into Small Cubes
2 pounds Breakfast Sausage, Cooked and Drained
1 package Frozen Chopped Spinach, Cooked, Drained, and Squeezed to remove water
2-1/2 cups Grated Monterey Jack Cheese
Preparation:
Note: This is a recipe that serves a crowd. It can be easily cut in half, which I did.
1) Mix together eggs, half-and-half, salt, pepper, and parsley. Set aside.
2) Cook the spinach, drain water, squeeze excess, and add to the mixture.
3) Layer half the bread, half of the spinach, and half the cheese in a large, buttered casserole pan. Repeat with the other half of all the ingredients, ending with the cheese. Slowly pour egg mixture all over the top.
4) Cover with plastic wrap and refrigerate at least 6 hours, overnight if possible.
5) Remove from refrigerator 20-30 minutes before baking. Replace plastic wrap with foil and bake in a 350 degree oven for 30 to 40 minutes. Remove foil and continue baking until top is golden brown and slightly crisp.
Want to know what's in the Awesome Giveaway? CONTEST CLOSED.
From KAF: A dough whisk, a coupon for a bag of flour in the supermarket, the sourdough starter, and your choice of  specialty ingredient! Click on King Artur Flour to see the products on their website. While you are there, follow them on Facebook!
From Red Star Yeast: 3 strips of yeast, their great bread pan, a very cool apron and a really sharp bread knife! Red Star Yeast also has recipes, (including gluten-free), a yeast conversion chart, a baking steps guide, and how-to-bake videos including videos for bread machine, stand mixer and hand-kneading. You can see all of the products, and the above info by clicking on Red Star Yeast. Check them out on Facebook too!
Follow 30A EATS on Facebook!
This contest is open to all with a U.S.A. mailing address, and will end Saturday June 9, 2012 at midnight Central time. The winner will be announced Sunday June 10.The winner will be chosen by random.org, and will have 48 hours to respond before another is selected. Products will be shipped by King Arthur Flour and Red Star Yeast. Good Luck!