Nestled between Lafayette and New Orleans, with its rich history of French, Spanish, Cajun and Creole influences, creating a melting pot that blends residents with more than thirty thousand students attending Louisiana State University, Baton Rouge is a delicious, spirit filled stew, that really heats up during college football season.
The landscape of Louisiana's capital city has been altered drastically since my graduation from LSU in the late 80's, and early 90's when teaching its downtown inner city youth-where at one point my 3rd grade students and I witnessed a terrifying drug provoked street shootout through my classroom window. Later, in 2005, Hurricane Katrina swept through the Gulf Coast and flooded New Orleans, sending many like minded-young professionals, chefs, farmers, and other entrepreneurs to Baton Rouge, planting their own roots that have blossomed into a resurgence of culturally enriching experiences for all to savor.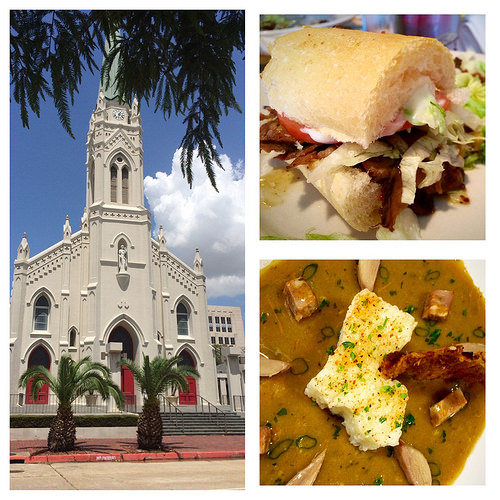 The streets are much more approachable, walkable, yet at times unrecognizable to me, and new modern architecture is being erected, while the restoration of older buildings has created a renaissance that appears to have channeled A. Hays Town, a renowned and beloved local architect, who passed in 2005 at the age of 101.
Being raised in a family with a long bloodline of farmers, grocers, and foodies that talk about what we are going eat for lunch and dinner, while still chewing on breakfast, we found food held a different meaning when we moved to Louisiana. It defines the region, sets a tempo for each ticking moment, and certainly all things social.
With spring crawfish season in full swing, I find myself recalling fond memories spent at many a boil on and off campus, where steaming bright red spicy mudbugs would spill from aluminum pots onto newspaper lined tables, piled high with the additions of corn and andouille sausage, and also my August 2014 culinary travels, where I was invited for a return trip by Visit Baton Rouge, to indulge in Red Stick once again, and to judge Fete Rouge– a fundraiser sponsored by the Baton Rouge Epicurean Society. Chefs from the region converge to impress socialites, omnivore's, and the panel of judges in attendance, with their creative takes on Bayou classics.
Offering a rich culinary scene thriving with talented chefs, and shops just waiting to be discovered, our media journey began with Kim Harper, who moved away from Baton Rouge, but returned to start Baton Rouge Food Tours. Kim injects her tours with historical architecture, landmarks, and of course stops for Louisiana favorites, like the muffaletta from The Lobby Cafe,  the fully dressed hot roast beef po-boy from Poor Boy Lloyd's (the oldest restaurant in downtown Baton Rouge), and savory gumbo from Stroube's Seafood & Steaks.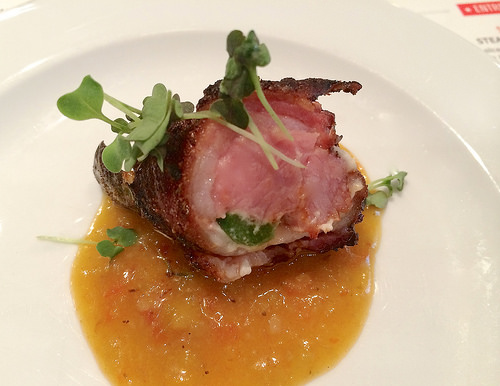 Kim introduced us to, and I later revisited, Restaurant IPO. They definitely cater to the downtown business crowd, but I also found it a bustling late night dining spot, and delighted in the Southern style tapas offered. The Bayou Deviled Eggs included crawfish and tasso, topped with a crispy fried oyster and tasso preserves, while the grilled bacon wrapped duck poppers were stuffed with jalapenos, green onion, creole cream cheese, and coated in a house made roasted apple smoked bacon peach pepper jelly. As they say in Louisiana, it was a party in my mouth. I missed out on, but will return for a taste of the deep dish muffaletta pie, made with Allan Benton's ham. Knowing the smoke flavors and aroma's that exude from his products due to his curing techniques, it's got to be good. The restaurants exposed brick walls and reclaimed cypress wood furniture (made from the Louisiana State tree), added to the rustic look and overall ambiance.
Saturday morning was spent at Circa 1857, where a giant mermaid greeted all prior to entering. Art, antiques and architectural salvage collided for the best in eclectic shopping, where over one-hundred local artists and their works are showcased. Yvette Marie's Café is the onsite eatery, but with food plans ahead, I chose to refresh with sweet tea while heading across the way to Mosaic Garden, located in the same compound, for more objects to fill my home.
Our next stop was a small, unpretentious, yet very busy cafe, called Bistro Byronz. They offer a place to relax, share conversation and enjoy good food at reasonable prices. Their slogan is "Homemade is Good", which to me meant comfort food was on its way. We sampled a variety of  items from the brunch menu including shrimp & grits,  soups, salads, and sandwiches, but the house thin sliced potato chips, deep fried with blue cheese drizzle was the star of the show.
Having visited the Old State Capitol a few times since childhood, I was glad to hear we were off to see it again on a walking tour, so I could rid myself of a calorie or two from over indulging on the blue cheese chips. It is the tallest capitol building in the country, which is no surprise if you have followed the influence that Huey P. Long had on Louisiana government, it sits on 27 acres, is listed on the National Register of Historic Places (1978), and was designated a National Historic Landmark in 1982. What I did not expect was the Capitol Park Museum to be so incredible. As a first timer, it is an irresistible place to be drawn into and submerged in Louisiana culture. There was so much to explore and to be emotionally moved by, but a favorite was the exhibit, "Huey Long Live – The Kingfish Speaks," bringing the old Kingfish back to life. The Museum includes two permanent exhibits: Grounds for Greatness: Louisiana and the Nation, and Experiencing Louisiana: Discovering the Soul of America. Both are a must if visiting Baton Rouge.
With the prevalent epicurean shift taking place in Baton Rouge, we rounded out the day with a visit to Red Stick Spice Co., owned by Anne Milneck, originally from LaPlace, Louisiana, but a Baton Rouge resident for more than 20 years. She studied journalism at LSU, and once her children entered elementary school, she studied and earned a culinary degree from the John Folse Culinary Institute at Nicholls State University. A purveyor of diverse, high-quality spices, teas, California oils and vinegars, I for one did not believe I could become so enamored with this expansive spice shop. But, after the delicious cooking demonstrations, engaging in conversation with Anne, and walking away with gourmet items, plus dropping some change…a lot of change on spices, I was all in.
By morning's departure, we  gathered at Gabby's Brew Ha Ha for breakfast. I met Gabby Loubiere at Fete Rouge 2013 (she won), who opened Brew Ha-Ha in September 2004, only planning for a coffee shop. One thing led to another, and by 2007 her cake ball business was booming, and the shop expanded to a bakery & cafe. I recommend the Hot Skillet for $7.99 that comes with eggs, cheese, bacon, biscuit, and while you're at it, order the side of sausage gravy. More than likely, you won't leave without a cake ball either.
Never one to depart any town I visit without a stop to the local grocery store, I filled up at nearby Calvin's Bocage Market, on all of the regions bounty I could get my hands on. Yes, there is mail-order, but it is just not the same as when you are there, holding the food in your hands, simple, yet satisfying, only to be gratified once again at your next bite when crossing the state lines to home.
Where To Stay:
The Crowne Plaza, newly renovated with concierge level
Where To Eat:
The Lobby Cafe, 8am to 2pm M-F only.
Yvette Marie's Cafe at Circa 1857
What To Do:
Capitol Park Museum, a must in my book.
The Taste of Tiger Tailgating held each August at the Baton Rouge River Center.
Baton Rouge Food Tours: Kim's tours are by reservation, and take about 2 hours.
Need A Photographer:
Jen Ocken Photography, also covering Florida's Gulf Coast
Hashtags: #BRFoodieFAM, #GoBR
Pinterest: Best Of Louisiana Food & Travel, Mouthwaterin' Eats
Intstagram: 30AEats, VisitBatonRouge
Facebook: 30AEats, VisitBatonRouge
Twitter: @Eater30A, @visitbatonrouge
Baton Rouge Blogs To Follow:
Teresa Day @Ieatbr and Jay Ducote @biteandbooze