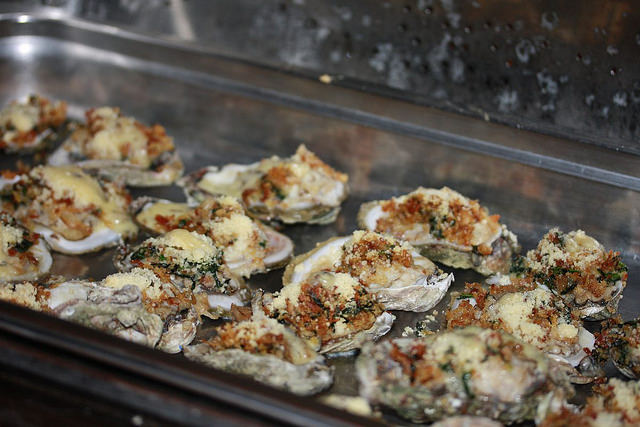 College football is back!  And, September 9 we celebrated our daughters wedding that had to be planned abound Alabama Football.
Though it did take place on a game day, apparently it was not one to significant, so we were allowed to proceed with her wedding plans, and living on the Gulf Coast, oysters were a big part of the day.
If looking for a new recipe for tailgating, check this one out. It is sure to be a huge hit at your next watch party, or gathering, especially since it is topped with our family favorite, Conecuh sausage.
Ingredients
1 dozen Fresh Gulf Oysters, shucked and on the half-shell
2 cups fresh spinach, julienned
1 cup Conecuh sausage, chopped
1 cup Panko bread crumbs, buttered and seasoned
¼ cup Shallots, finely chopped
½ cup Parmesan cheese, freshly grated
1 cup Butter sauce (substitute Béarnaise mix from grocery store)
2 dashes Louisiana Hot Sauce
1 Lemon
To taste Kosher salt
To taste Fresh ground pepper
Directions
Start by shucking the oysters, making sure to separate the oysters from the shell.Once your oysters are ready, place one pinch of shallots on top of each oyster, then cover with spinach and add one pinch of Conecuh bacon. Cover with cheese and bread crumbs, then ladle the butter sauce on top.When all of your oysters are properly decorated, bake them for 5 minutes at 425 degrees, or until the bread crumbs are golden and the cheese is bubbly.

Add some lemon zest and a squeeze of lemon juice over the final product and you're ready to eat.
 Recipe adapted from Alabama Seafood