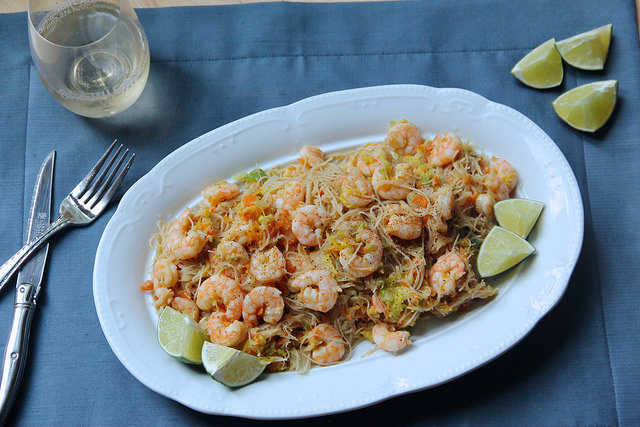 Have you tried Pancit? It is pure comfort food in our home, right up there with chicken adobo as far as Filipino recipes go. It is a noodle dish often served on birthday's for longevity. We crave a taste of the Philippines now and then, as my father was stationed in Subic Bay during the bicentennial of 1976 when I was in elementary school. What memories! Many Filipinos use chicken, pork, shrimp, or sometimes a combination of the three, but our house maid Lourdes (a smart young lady who was assigned to our family) cooked with shrimp, lots of calamansi lime juice, rice noodles, and fresh vegetables. Like a good pot of gumbo in Louisiana, or a shrimp boil here on the Gulf Coast, there are as many recipes for Pancit as there are Filipino families in America today. So, feel free to adjust the recipe to your taste. I always use low sodium soy sauce, and with this dish being a stir fry, make sure all ingredients are prepped and ready to go. For this recipe, we used brown rice noodles made with 100% whole grain. They are a great source of dietary fiber (50% per serving) and are gluten free. You can also use the standard Bihon noodles.
Pancit with Shrimp & Lime
Serves 4
1 8-ounce package of rice noodles
1 pound medium shrimp peeled and deveined
3 cups low sodium chicken broth
1/4 cup low sodium soy sauce
1/4 cup oil (peanut or vegetable)
1 small onion, diced
4 cloves garlic, minced
1 lb shrimp, peeled and deveined
3 carrots, julienned or finely chopped (about 1 cup)
3 celery stalks, julienned (about 1 cup)
2 1/2 cups napa cabbage, thinly sliced
1 tablespoon fish sauce
Freshly ground black pepper to taste
Heat a large wok or saute pan to medium-high. Add oil.
Stir fry the onions until they turn clear, about 1-2 minutes. Add garlic. Be careful not to burn the garlic.
Add the celery and carrots. Lightly stir fry 2 minutes.
Add the cabbage and shrimp and stir fry 2-3 more until shrimp are pink and not translucent.
Pour the mixture onto a bowl and set aside.
Pour the chicken stock into the heated wok. Once it starts boiling, turn the heat down to medium. Add rice sticks, soy sauce, and fish sauce. Boil for another 5-7 minutes until there is approximately 1/4 cup stock left. Do not stir, but use tongs to lift the noodles in an up and down motion to absorb the sauce. Add the shrimp mixture back into the wok, and lightly fold the stir fry until all the liquid has evaporated. Add freshly ground pepper to taste. I squeeze lime juice over the top of each serving. Actually. a lot of lime juice as it is great with this dish.
Garnishes:
4 calamansi or limes, quartered
2 eggs, hard boiled and sliced
2 stalks green onions, green and white parts chopped
Tip: No need to pre soak the noodles in warm water for this recipe, boiling the noodles in the stock infuses more flavor and keeps the noodles moist.
Note: Edward Wood of Wood's Fisheries in Port St. Joe, Florida knows more about wild shrimp than anyone in this region, and would be the point of contact for purchase. You can find his shrimp at Maria's Seafood in Pensacola. Wood's, founded in 1860, is a fifth-generation business at the forefront of the movement to promote environmentally friendlier wild-caught shrimp from American waters, netted directly from their natural environment. Wood's is one of the first domestic shrimp producers to use Trace Register, a global database of catch information and product life history – from source to sale. They define what true traceability is, 100% transparency. Destin Ice in Destin is also a go to source for quality seafood.
See the recipe on live video at GulfCoastRestaurants.com You Tube!