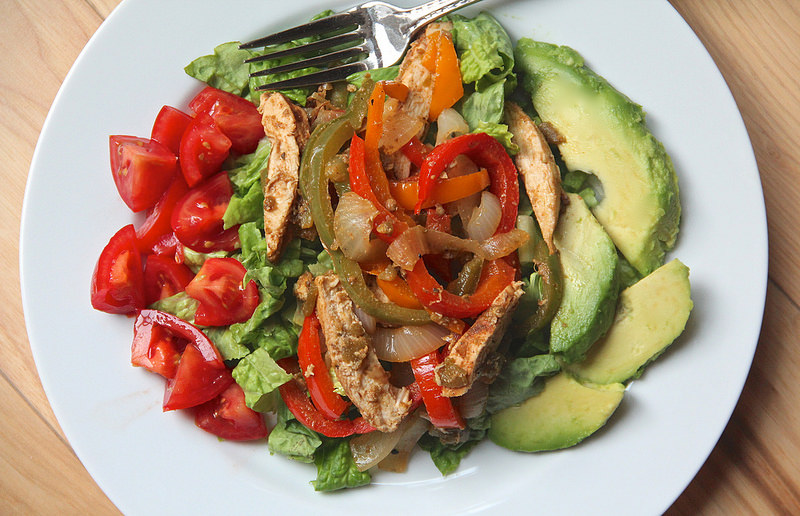 Contributor: Caroline Coker
This is an easy and delicious weeknight meal, or one to enjoy any time of day. For breakfast top this salad with a poached egg, cut the recipe in half, or double depending on the number of people you need to feed. My dry rub is the perfect marinade for the chicken. I use it right before the protein hits the grill and tops my favorite lettuce.  Just serve with chopped tomatoes and sliced avocados on the side.
Option: Use corn tortillas to turn salad night into taco night. #HealthIsYourWealth
Caroline's Dry Rub:
1 teaspoon ground cumin
1 teaspoon sea salt
1 teaspoon garlic powder
1 teaspoon chili powder
1 teaspoon dried oregano
1 teaspoon onion powder
3 tablespoons good oil
1/2 cup lime juice
Ingredients
3 organic boneless skinless chicken breasts, cut horizontally to make six breast portions
1 medium onion, cut into strips
1 medium each red, green and yellow pepper, cut into strips
1 can (4 ounces) sliced green chilies
Chopped Romaine lettuce
3 medium tomatoes, cut into wedges or chopped
1 medium ripe avocado, peeled and sliced
Preparation
Combine dry spice ingredients into a medium bowl with olive oil and lime juice and whisk. Pour 1/2 of marinade over sliced chicken (wearing latex gloves if you wish), massage and rub marinade into the chicken breasts. Place chicken in a gallon size zipper bag and into the refrigerator for 30 minutes.
Remove the chicken and grill 4 minutes on each side or until it is not longer pink. Let it rest 3-4 minutes on a cutting board before slicing into 1/2 inch pieces against the grain.
While the chicken is grilling, add 2 tablespoons of vegetable oil to a large wok or pan set to medium high heat. Add onions and cook until until translucent. Slightly char. Add the green, red, and yellow peppers and cook 2-3 minutes. Add the 1/2 reserved marinade and cook for 2 minutes. Add green chilies and stir.
Plate on a bed of Romaine with tomatoes and sliced avocado on the side for a delicious and healthy meal.
View this recipe on GulfCoastRestaurants.com You Tube! By doing so, you will be able to see all the nutritional facts about this recipe.
Contributor Caroline Coker was raised on 30A, and has been living in South Walton, Florida since the age of five. She is passionate about health and fitness, and graduated in Nutritional Science from The University of Alabama in August 2015. You will find more of her work here at 30AEats.com on Beach Eats, recipes that she is working on for her first cookbook. Caroline also handles the social media for GulfCoastRestaurants.com.