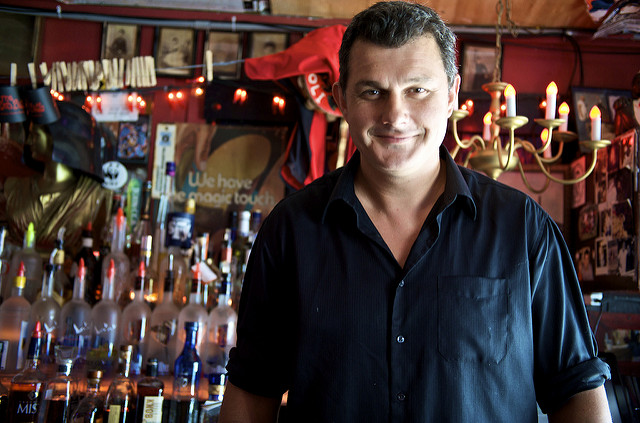 Update 2/13/19: Saddened to share that our beloved and iconic historical landmark, The Red Bar and Piccolo Restaurant, at 6am has burned to the ground in what is being described as a structural fire. Owner, Oliver Petit, says they will rebuild. 
Dining at the beach can be quite an adventure, and South Walton restaurants each have their own unique character. After living in the area for nearly two decades, one of the eateries that I can always count on for great drinks, good food and a good time is The Red Bar in Grayton Beach.
With an eclectic mix of locals, tourists, musicians, artists, and yuppies, The Red Bar offers something for everyone, and all feel welcome.
Often called Northwest Florida's own Key-West, The Red Bar and Grayton Beach represent the quintessential laid-back lifestyle that many folks are drawn to.
Though the formal name of this funky eatery is Picolo's-The Red Bar, Belgian-born and culinary trained Oliver Petit's beloved establishment is well known worldwide as simply, The Red Bar. He says, "I wanted to create a place that felt good, one where everybody could leave their troubles as they entered the door."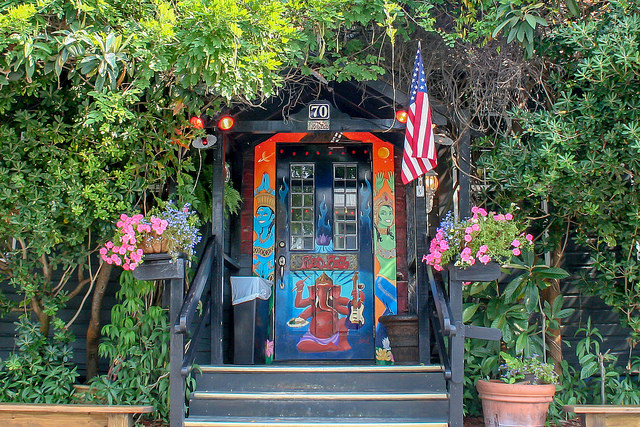 Situated beside one of the most pristine beaches in the world, this iconic bar and eatery was once Grayton General Store which supplied the community with groceries, bait, beer, and served as the social hall complete with jute-box for dancing on Saturday night.
The décor is wildly charming with Christmas lights strung across the ceiling while also showcasing several European antique chandeliers and a disco ball. Album covers and foreign film posters cover every inch of the interior walls and ceiling as well.
With a limited chalkboard menu and the fresh catch changing daily, you can't go wrong choosing any of the dishes highlighted, and you won't leave hungry, as the portions are quite generous. My favorites include the ever-popular panned chicken that is pan seared and topped with a lemon burre blanc sauce and capers then served atop an infamous mound of house-made mashed potatoes, and the legendary crab cakes packed with lump crab and claw meat. The baked eggplant stuffed with shrimp and scallops is another customer favorite, as is the penne pasta with crawfish and shrimp in a tomato-based sauce.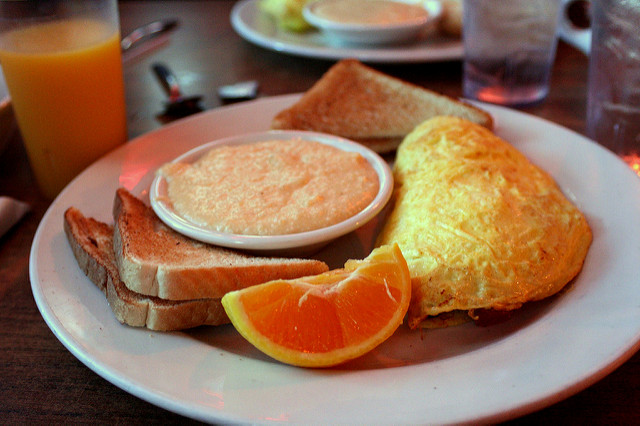 The Red Bar offers a variety of luscious desserts that will satisfy any sweet tooth like the moist bread pudding, gooey chocolate brownie, and Petit's personal favorite, the Key Lime Pie. Don't even think about leaving without trying the incredible and soul satisfying Apple Dumpling- a whole apple baked in a dumpling, served piping hot with a caramel glaze, vanilla ice cream, chocolate drizzle and whipped cream. It is pure heaven.
Cocktails at The Red Bar flow like water, and when the dinner crowd winds down the vibe changes to that of one filled with music and energy.
The Red Bar Jazz Band plays each evening, but Sunday's are special at this local hot spot, as popular home town groups like Dread Clampitt show off their skills, while celebrities like Eli Manning, and Sean Payton are often spotted. Many times they will join the musicians on stage as Sam Bush, Sheryl Crow and Willie Nelson have done.
Sunday Brunch is the perfect time to sit back and unwind with family and friends while sipping on one of the best Bloody Mary's in the Panhandle; spicy and refreshing, it is almost a meal within itself.
Plan to arrive early for dinner or brunch to get the best seats at this psychedelic beach shack, as crowds can be seen lining up by the magnificent hand-painted front door prior to opening. In spring and summer expect a wait.
The off-season is the perfect time to visit The Red Bar as the area is far less crowded, and you can linger on one of the velvet sofa's soaking in the festivities and entertainment.
Plan on bringing cash as credit cards are not accepted, and they do not take reservations, but an onsite ATM is available.
The Red Bar is located at 70 Hotz Avenue in Santa Rosa Beach, Florida, 32459. They can be reached by phone at (850) 231-1008 or you can view their website: www.theredbar.com.
Hours of operation are Wednesday thru Sunday Lunch 11 am-3 pm, Dinner 5 pm-10 pm, Bar 11 am-11 pm (12 pm Saturday and Sunday). They are open Thanksgiving week, but not Thanksgiving Day, and are closed on Christmas Eve and Christmas Day.
.
.